You are here
Fall

Hanover, NH

This remains one of the most challenging, yet rewarding classes I have taken at Dartmouth. The professor is amazing, the labs are engaging, and all in all you learn so much information in such a short amount of time.

Fall

Hanover, NH

Following my experience in my Queer Cinema class, I looked into potentially majoring in film and this was one of the pre-requisite courses. While I thought I would hate this course because I thought silent films couldn't be interesting I couldn't have been more wrong. Not only is this class great at explaining the history of film across the globe, but it is also great at demonstrating just how engaging silent films can be.

Winter

DeLand, FL

I spent the term back home in Florida working as a manager at a Converse store to save up some extra money and hanging out with my family. After five terms of taking classes in a row (mostly virtually due to COVID) a break was long overdue.

Spring

Hanover, NH

I took this course for no other reason than to fulfill my INT distributive requirement but was pleasantly surprised by how much I enjoyed the class. Not only was the professor extremely knowledgeable, but she also invited numerous guest speakers to the class who were experts at the top of their field. If you have ever wondered how power influences the food we eat and have access to, this class is for you.

Summer

Hanover, NH

Taught by an amazing, fun visiting professor, this class remains one of my favorites that I have taken at Dartmouth. We spent the entire term learning how to curate a film exhibit, watching short film exhibits, and curating our own short film exhibit. All of the final exhibits were so well-done and I think we all really enjoyed having the opportunity to demonstrate all that we had learned. If you are interested in seeing what these exhibits looked like mine is linked in the course name!

Fall

Hanover, NH

This course was taught by the professor who ultimately made me decide to change my major to Philosophy and was just very well executed. While the course subject generally falls within my interests, the discussion-based format ensured students engaged with the course material in a way that led to productive, thought-provoking conversation on some of the most salient issues of our time.

Winter

Hanover, NH

As someone with an interest in both STEM and humanities, I was excited to take this course and it did not disappoint. Although it was a 9L (and I am not a morning person), I thought the course provided a great introduction to logic and made me want to take more classes on the subject going into my senior year.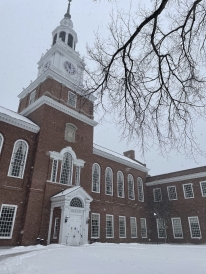 Answering the Inevitable "Why Dartmouth?"
Why should you come to Dartmouth? While this question is one that I always anticipate being asked, my answer always changes—from our community, location, and resources there are so many reasons to want to call Dartmouth your home.
Rising and Reflecting
When picking a college, know that you are not only picking a place to learn about the world, but also about yourself—and Dartmouth is a great place to do just that!