« All Posts by this Blogger
Aldo '17 Shares Why His Undergraduate Research Opportunities Make Him a better Scientist
As you may have seen here in my blog, I went on the Anthropology and Linguistics Foreign Study Program in Auckland, New Zealand this past winter.
Iona is a small island off the west coast of Scotland in the North Atlantic Ocean.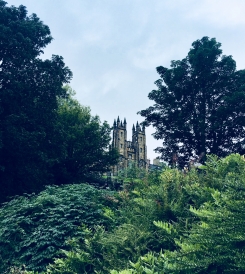 It's officially been two weeks since I packed up and flew across the ocean to begin my study abroad program at the University of Edinburgh. Studying abroad has been on my college to-do list since high school.
A lot of Dartmouth students who are "off" that term visit campus during big events like Homecoming, Winter Carnival, and Green Key.
While Hanover might be a peaceful and secluded town, I've learned that the outside world isn't so far away.
Hello from Edinburgh, Scotland where I am settling into my apartment and exploring the city in preparation for my study abroad term! I will be spending this term (18F) studying at the University of Edinburgh's New College School of Divinity.
It's 10:53 and I'm writing this from a bench outside of my best friend's dorm room. I have a sweater on because it's cold, the type of cold that reminds you that fall is just around the corner.
I get a lot of questions from prospies and students at other colleges about what I do in my free time since Dartmouth is "so rural," and whether I'm bored in the summer without the Miami beaches that I'm used to.

If you had told me in high school that I would go abroad six times in my first three years of college, I probably would not have believed you.