You are here
Fall

Hanover

This course delved deep into the linguistic development of the English language! It was super interesting, especially given my own unique accent!

Winter

Hanover

This class was SO interesting... We dug into the history of racial inequality in Brazil, stretching from the advent of slavery to persisting modern societal issues.

Spring

Hanover

A course that I took completely impulsively turned into one of the most formative experiences I have had at Dartmouth. Through physical mediums and theatre, I rediscovered what it meant to be 'creative.'

Fall

Hanover

Having always had a hatred for learning languages, I was wary of the requirement to do so here at Dartmouth. In reality, though, I needn't have worried! I absolutely loved every minute of this class, and now I can speak pretty good Italian!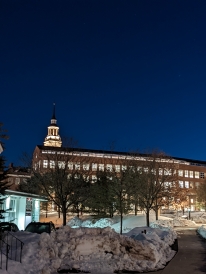 Pages