You are here
Fall

on campus

My fall term began with my favorite class so far at Dartmouth: Antiquity Today. In this intro-level Classics course, we analyzed our own culture through comparison. Delving into topics of violence in entertainment, philosophies of government, and attitudes about sex, we deconstructed our own cultural norms and biases through comparing them with the practices of the ancient Greeks and Romans. Embracing the spirit of the Greeks' dramatic stage was the wonderful professor, Paul Christesen. He would bring a bag of goodies and distribute them to students who asked questions as incentives for students to engage with the course material. Overall, I feel that I have learned worlds about my time as well as the past and can see the world through an enhanced sense thanks to this course.

Winter

on campus

In an introductory-level Earth Sciences class, we traveled through time studying the origin of the planet, the history of life on earth, its migration to land, as well as the mass extinctions that plagued ancient populations. A key component of this conversation was the earth's current state, and how we are experiencing the beginning of the sixth mass extinction in earth's history. We discussed causes of the earth's critical state and compared carbon levels throughout time to better understand our current carbon situation. In homework assignments, we took what we learned in the classroom into the field, which was my favorite component of the course. We wrapped up the class with the coolest project: Constructing a proposal that would meet the goals set in Biden's energy plan as practically as possible.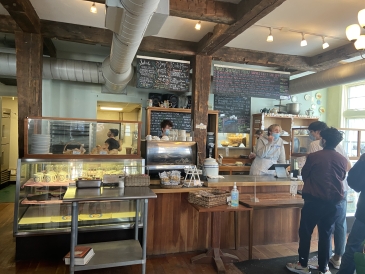 Three Cafe's!
Come along to read about where Dartmouth students study or hang out when they're not on campus: nearby cafe's!!
Pages