« All Posts by this Blogger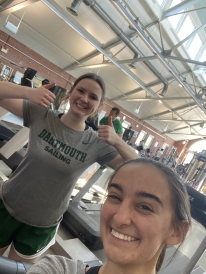 Winter Walk On!
In high school, I remember my days being full, with class during the day and swim or cheer practice in the afternoon. Although I was busy, I loved being on a team and staying active while supported by a group of dedicated people. Now that I'm in college, I've loved getting involved in the clubs and activities Dartmouth has to offer. Yet I have missed being on a team and competing!  
Lucky for me, there are lots of ways to participate in sports on campus! Whether it is for fun with friends, intramural games, club sports, or even D-1 level teams, options abound for sport seekers. Playing with friends—that's easy enough! Just go outside and throw a football or stay in and play pool or ping pong. To kick it up a notch, you can join an intramural team. For intramurals, you can create your own team. Many are made up of students from campus clubs, housing communities, or frats. Club teams are more competitive. They travel to compete with other club teams, so some benefits of being on those teams include meeting new people and bonding with teammates on the road. Finally, there are D-1 sports. They require a ton of time and are physically rigorous. Yet, D-1 teams can be open to all skill levels, depending on the sport. There are some, like sailing, that take many seasoned recruits, but also accept walk-ons who are open-minded, hard-working, and willing to dedicate themselves to something new. 
I, myself, am one of these walk-ons! In the winter, I walked onto the sailing team, never having been in a boat before! It has definitely been a learning experience, but it is a new and welcome challenge. It has been a great way to get outside, away from the books, and play a sport I enjoy surrounded by people who love it too!
If you're looking for something to do on your own, the gym is always open! Also, the tennis courts, squash courts, and basketball courts are available for friendly recreation. Of course, you can always keep it light and play catch or spikeball on the Green. Outdoor trips (hiking, kayaking, climbing, biking, etc.) are available, too.
Whatever your athletic needs, Dartmouth has you covered!