« All Posts by this Blogger
Summer in Morocco
This summer, I had the opportunity to take an on-term in Rabat, Morocco to study Arabic and Moroccan culture through a Dartmouth LSA (language study-abroad) program. Now back on campus for the fall term, I've had a chance to let my experience marinate a little bit. 
First, the program does count as an on-term; therefore, I had three classes with the other students on the program. Two of them concentrated on Arabic language (Arabic 21 and 22) and the third was a Middle Eastern Studies seminar on Moroccan history and culture. For the Arabic courses, we were able to learn both inside and outside the classroom, often taking advantage of opportunities to speak Arabic in all sorts of places. As for the seminar, Professor al-Ariss invited a number of Moroccan authors, academics, artists, and activists (that's a lot of A's) to class to share their experiences and perspectives on Moroccan culture and politics. Thus, the academic experience went beyond the classroom or assigned readings; this is, perhaps, the biggest virtue of any of Dartmouth's study abroad programs. 
Throughout the program, I lived with a Moroccan host family in the old city of Rabat - each student was assigned to a family. This provided a great opportunity to practice Arabic with more frequency and develop a more intimate relationship with Moroccan food, culture, and values. With three host brothers to live with, I had a great time exploring the city and youth cultural scenes with people who could show me around. 
Furthermore, the program provided a great opportunity to get closer to my Dartmouth peers! While I didn't know many students on the LSA initially, by the end we formed into a tight-knit group. A large reason behind this is the abundance of traveling we did throughout Morocco - with Dartmouth's great financial support, we were able to visit over 10 major Moroccan cities, with the freedom to travel in groups as small as two! While this freedom got us into some questionable situations, we came out the other end with great memories - in this sense, we truly had the freedom to shape our own experiences in Morocco, as we were allotted two weeks (and multiple other weekends) to travel to cities like Marrakech, Casablanca, and Tangier.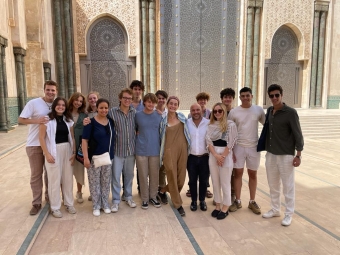 After writing about the Morocco LSA in my 'Why Dartmouth' essay, having the chance to go on the program was irreplaceable. As somebody who has not had many opportunities to travel abroad, spending ten weeks in a brand new country was truly a formative experience, and I can't wait to go back and see all the friends I made in Morocco. For any prospective '27s reading, I hope this encourages you to check out Dartmouth's wide range of study abroad programs!