« All Posts by this Blogger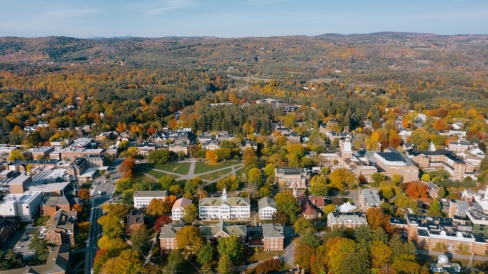 Revisiting My Why Dartmouth?
Wow, I can't believe that it's been over 30 months since I was writing my application to Dartmouth as a high school senior. For all the potential '26s yet to commit to Dartmouth, you may be wondering if current students are happy with their choice to come here. Today, I'll go line by line to see how my "Why Dartmouth?" essay has evolved over these past two years.
"The authenticity of Dartmouth's community is what draws me most to the College." 
I've met some of the most talented, humble, and collaborative people here—individuals from all walks of life who you can go on hiking adventures with or rely on when needing help with understanding a difficult Econ concept. I've sprawled out on a picnic blanket with some of my best friends on the Green, listening to the birds chirping overhead and the laughter of other students playing Spikeball nearby. I walk to class and wave to at least three people I know on the way there, passing by the gorgeous traditional brick dorm buildings where 90% of Dartmouth's students live on campus. I know my friends and I will cherish these simple moments with Dartmouth's close-knit community for a long time, which is probably also why we have such a wonderful alumni network!
"On Move Out Day 2019, a passing '21 dropped everything to give me a personal tour around campus, from residential life in West House to the intimacy of Baker-Berry Library."
My first time on Dartmouth's campus, my dad and I were lost and stumbled upon a '21 moving out her belongings from her freshman dorm room. She answered all of our questions and even started crying because she didn't want to leave the '18s who were about to graduate. I'll never forget her kindness and genuine love for sharing stories about her Dartmouth experience; the encounter honestly contributed greatly to me applying Early Decision to Dartmouth. Now, Baker-Berry is one of my favorite study spots on campus—specifically the Tower Room for its dark academic, productive atmosphere—and coincidentally I'm an undergraduate advisor in West House, one of six housing communities on campus!
"Now, I can picture myself collaborating on the Green, embracing the flexibility of the D-Plan through a mid-year internship, pursuing the new Government Major modified with Economics, and participating in the Tuck Bridge Program."
I love to soak up the sun on the Green—it's one of my favorite places to spend time with friends in the heart of campus. The D-Plan is allowing me to study abroad next fall to London for an economics exchange with UCL, then take my junior winter off to pursue an internship that likely will be related to law or clean energy. I did enjoy taking a Government class during my freshman winter, but realized this school year when I discovered the Environmental Studies department that my interests align more with ENVS and ECON. Although I'm no longer a Government modified with Economics (PPE) major, I now have more clarity over my academic plans and am planning to double major in Economics and Environmental Studies. I haven't done Tuck Bridge, but I did do TuckLAB last winter and loved all aspects of the liberal arts in business program: the peers I met, the skills I learned, and the professors I felt inspired from.
"I envision myself paddling down the Connecticut River and bonding with peers during Sophomore Summer."
In general, Dartmouth students love to spend time outdoors; after all, we did choose to apply to college in a rural environment! Dartmouth's campus radiates natural beauty all around. As a lifelong city/suburbs dweller, I've learned to find peace in the outdoors, embracing each of our four distinct seasons for their unique quirks: vibrant foliage in the fall, soft snowflakes in the winter, the budding of trees in the spring, and lots of kayaking to come this summer. One of my highlights of my freshman spring was paddling down the Connecticut River on a canoe or kayak with friends. I'm one term away from Sophomore Summer, a term full of bonding between Dartmouth students' sophomore and junior years, and am super excited! I plan to take a two-course term and spend a lot of time with friends and sorority sisters, as I'll be living in my sorority house.
"As a self-proclaimed explorer, Dartmouth is my dream."
This is definitely still true. Over the last two years, I've pushed myself to grow and discover more about myself in so many ways—learning to ski for the first time, walking around a roaring bonfire with my classmates, taking a Theater class, discovering my love for the Environmental Studies department, visiting Boston with the Rockefeller Global Leadership Program, and more. I've had classes both via Zoom and in person in a whole range of departments, tubed down the exhilaratingly fast golf course slopes and gotten snow all over my pants, found a great group of lifelong friends with the Women's Water Polo team, and ventured to the Organic Farm for freshly baked pizzas and joyful live music. Whoever you are, wherever you come from, if you're not afraid to occasionally take risks and step outside your comfort zone, Dartmouth is the place for you!