« All Posts by this Blogger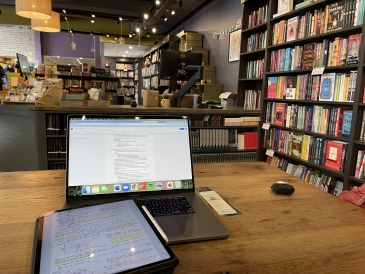 Why I'm Double Majoring
At Dartmouth, you don't declare your major until your fifth term—typically the end of your sophomore winter. I recently declared mine: Economics and Environmental Studies. I'm also minoring in Public Policy on the International Development track!
In my "Why Dartmouth?" essay, I wrote that I planned to become a Government modified with Economics (PPE) major. However, I was aware my plans may change as I experimented with different departments and discovered new interests. When applying to colleges, I felt drawn to Dartmouth because of the abundant opportunities to explore; I knew I wanted to go to a school where I wouldn't be boxed into one linear track. During my first year, I definitely followed through on that sentiment and dipped my toes into the Geography, Education, Math, Psychology, English, Economics, International Studies, and Government departments. I enjoyed many of them, including "ECON 1: The Price System - Analysis, Problems, and Policies," which provided a fast-paced, 10-week introduction to microeconomics. We used a mix of using models to analyze real-world problems and listened to thought-provoking NPR podcasts about current events related to economics. As for Environmental Studies, I didn't even take a class in that department until my sophomore fall, when I took two courses: "ENVS 17: Marine Policy" and "ENVS 3: Environment & Society" (feel free to read about my experiences with them in my blog post here!) and fell in love with the subject. I hadn't really considered the Environmental Studies major during my freshman year, but this winter I am doubling up on ENVS courses and am currently taking "ENVS 2: Introduction to Environmental Science" and "ENVS 80.08: The Practice of Science Policy & Diplomacy" — both of which I really enjoy.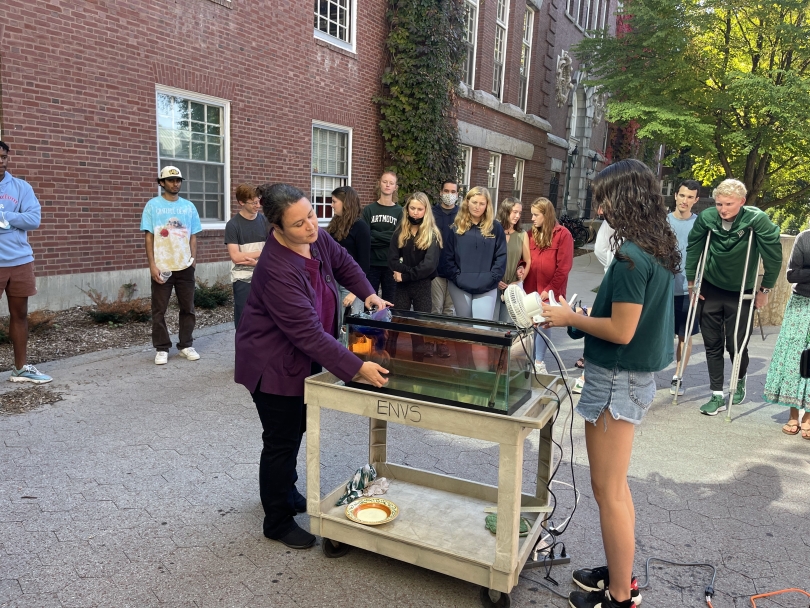 The Environmental Studies department coordinator Kim Wind frequently blasts opportunities and cool new courses for ENVS majors to check out, ranging from internships with the U.S. Department of Energy to my ENVS 2 Professor Chaudhary's new course on soil ecological systems. Within the ENVS department, there are options to minor in Environmental Studies or Environmental Science and if your interests fit one of two tracks, you can choose to focus your minor on the Sustainability track, or the newly designed Sustainable Energy track. Fun fact: Here at Dartmouth, you can also modify your major to suit your academic needs. For instance, I know students who have declared modified majors like Environmental Studies with Anthropology, Engineering Sciences modified with Computer Science, Government modified with Economics, and Computer Science modified with Studio Art. Dartmouth's liberal arts curriculum encourages students to try different ways of thinking. We are one College—not composed of smaller schools within. Our distributive and cultural requirements also mean we are often jumping in different departments that may not align with our major, but give us the tools to view it in a different light.
At Dartmouth, as you accumulate your 35 credits it's more than possible to double major—you can even fit in an additional minor like I did with Public Policy. I have always had a passion for sustainability, so I am drawn to the combination of Economics and Environmental Studies because I think it's so important to understand the negative externalities humans have upon the environment from an economic lens in order to develop tangible solutions to issues like climate change, biodiversity loss, food waste, and deforestation. I'm not entirely sure what I want to do as a career post-Dartmouth yet, but I know I want to do something for the common good of society and am interested in environmental law, renewable energy, corporate social responsibility, and sustainable real estate development. My academic plan—a combination of Economics, Environmental Studies, and Public Policy—will prepare me to enter any one of those fields. Feel free to check out my fellow blogger Robin's post on why he is double majoring in Economics and Computer Science! If you consider yourself an interdisciplinary thinker with an eclectic range of interests, Dartmouth and its emphasis on exploration may be a great fit for you.