« All Posts by this Blogger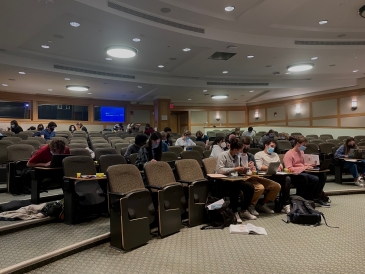 My Fall Classes
After a great summer in New York that you can read about here, I'm back at Dartmouth! I'm not taking any major classes this quarter, which means I have the opportunity to explore different interests. I decided to take three classes this term, which I'll share with you all today!
First, I'm taking a Religion course called Sports, Ethics and Religion. The class discusses the ways in which sports are comparable to religion, and discusses contemporary topics such as race, politics, and gender in sports. As someone who enjoys watching sports, it's been great learning about the histories of major sports. The class is graded on discussion posts, a debate and a paper, so it involves a lot of critical thinking and communication. While I really enjoy this class, I might have believed that this class wouldn't be relevant to my post-graduate career. However, I now realize that the critical thinking and communications skills I develop in this class will be essential to anything I do!
Next, I'm taking a Theatre course called Classical and Medieval Performance. This class explores the history of classical and medieval theatre, and is the first theatre class I'm taking at Dartmouth. Although the class material and assignments are all enjoyable, what I like most about this course is that I am expanding my circles. Through this course, I have met a lot of Theatre majors who I would have never interacted with otherwise, and it's been really great learning from my knowledgeable classmates about theatre. I've also loved seeing the passion for theatre that people have, as it inspires me and my interests. The final project for this course will be a performance, which I'm excited to be a part of. I haven't acted for an audience since middle school!
Finally, my third class is an Anthropology course on Economic Anthropology. Even though I'm not taking any major courses, I decided that Economic Anthropology would be a great way for me to explore one of my majors (Economics) through a different lens. So far, the class has been exactly that. We have a lot of readings where Economists and Anthropologists discuss Economic concepts, which has been really interesting to follow. I'm currently writing a paper on the Great Resignation (a contemporary Economic movement caused by Covid-19) through the lens of anthropology, and I'm really excited to see how that turns out!
So, that's my classes this term! As you can see, your major or minor at Dartmouth doesn't dictate what you study. Even though I'm a QSS and Economics Major, none of my courses this term are in those departments! I look forward to developing my qualitative skills this term as I explore some other interests.