« All Posts by this Blogger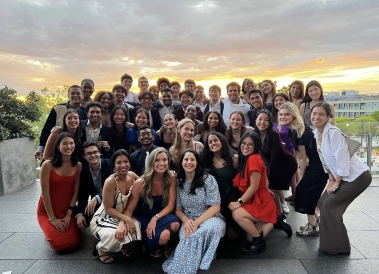 Junior Summer in New York!
After a summer away from the blog, it feels good to be back! As I'm writing, I just wrapped up Week 1 of the fall term. It's always exciting coming into my Senior year of college, and I've enjoyed catching up with friends and making some new ones as well. Although I'll introduce all the interesting classes and activities I'm taking on this fall, I thought I would first tell you about my junior summer. 
Most people take junior summer off to pursue an internship or research opportunity, which is what I did this past summer. Coming into Dartmouth, I wasn't sure what I wanted to do or where I even wanted to work. As an international student, my opportunities were limited and I would have to enter the H1B lottery if I wanted to stay in the United States (which I get 3-4 tries at because of my STEM OPT). Therefore, I decided to explore the consulting industry, as I heard that it had the most flexibility in terms of career opportunities and geographic flexibility. Since I wanted to keep my options open, consulting seemed like the perfect opportunity for my junior summer!
I was lucky enough to get a consulting internship in New York, and so I spent my summer living in a big city by myself for the first time. I really enjoyed my experience, as I was able to meet some great friends, learn a lot of new skills, and have a lot of fun! Dartmouth's career development resources not only gave me the resources during recruiting to polish my resume and prepare for interviews, but the liberal arts curriculum also allowed me to succeed at the internship. My four years at Dartmouth have allowed me to practice my communication and learning skills, which were essential during my internship. Students at Dartmouth explore a range of different post-graduate opportunities, and I think Dartmouth does a great job of preparing students for whatever they want to pursue! 
After graduation, I'll be going back to New York to go back to consulting! I'm still not sure what I want to do and where I want to be long-term, but I'm grateful to Dartmouth for giving me the resources and tools to explore my options. I'm super excited about going back after graduation, but for now, I'm going to enjoy senior year!