You are here
Fall

On Campus

Oh. My. Goodness. What a fun class this was! As a certified weather and climate geek, I was totally entrenched in everything we done in this course. From the labs and weather presentations to the "flipped" classroom experience, I thoroughly enjoyed this class. Dr. Osterberg's excitement for the course material made it that much more enjoyable! It was truly an extraordinary first-year course to take.

Winter

On Campus

I've loved this class from beginning to end. For one, I enjoyed it because of the people in it, but I also loved it because of the content. Through frequent class discussion, I learned about the health of our democracy and the ways it is compromised. Very enlightening class!

Spring

On Campus

Religion 5 was a quintessential liberal arts course that deepened my knowledge in a subject I thought I had all figured out. As a STEM-oriented student, this class offered the perfect balance to my spring term schedule. As a result of this class, I became more introspective of how I was raised, and I'm more grateful in my ability to be a free-thinker.

Summer

Off Campus Internship - Princeton, New Jersey

This summer, I explored my future career plans by participating in a research internship with the Geophysical Fluid Dynamics Laboratory at Princeton University. I learned a lot about what I want (and what I don't want) in a future career, and I made so many awesome lifelong connections!

Fall

On Campus

A course rooted in both philosophical theory and real, practical methods of becoming a better public speaker was the highlight of the term. Our class of 16 students grew to be a sort of "mini-family," and I'm so grateful for the connections I made. I completely changed the way I view public speaking and homed in on my own skills as a public speaker!

Winter

On Campus

Once again, a course outside my major found its way into my favorite class list. This sociology course helped me better understand how children are viewed in society, the way sociologists study youth, and the major differences in norms around childhood around the world. Who knew there was so much to learn about youth culture!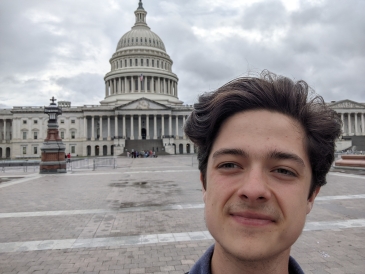 Pages