You are here
Fall

Hanover, NH

I studied Latin throughout high school, and I intended to continue the language at Dartmouth. Latin 3 was a good introduction to the Classics department. I was really surprised with how immersive my class was! We even visited the Rauner Special Collections Library on campus, where we had access to the original manuscripts (made of animal skin!) of Ovid's poems. I'm excited for similar experiences in the near future; I plan on majoring in Classics!

Winter

Hanover, NH

I'm not an Engineering major, but I LOVED ENGS 12. It's the kind of class that you take just because you've heard so many great things about it. A friend recommended this class and professor (Rafe Steinhauer) to me- and I'm so glad they did. Not to be dramatic, but this Design Thinking class literally changed the way I understand the world around me. I learned about creativity, problem solving, and collaboration in an immersive way. The group projects helped my apply this knowledge on a daily basis. I constantly find myself transferring what I learned to my current academic and personal life. I can't recommend this class enough!

Spring

Hanover, NH

"Science Communication & Context" was my chosen topic to fulfill Dartmouth's first year Writing Seminar requirement. My seminar was taught by a notable professor in the Chemistry department. As a pre-med student, I have a lot of interest in STEM. I think the phenomenon of miscommunication in science is one that is both interesting and socially relevant. I also love the discussions in this class because many of my peers come from different backgrounds.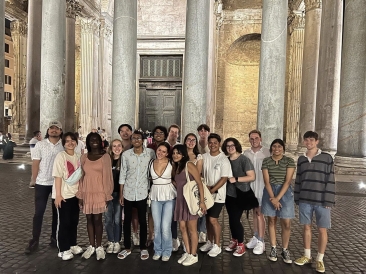 Pages