« All Posts by this Blogger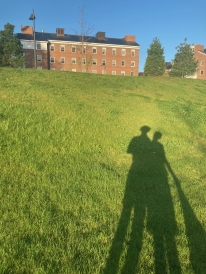 Oh, to being a sophomore!
Honestly, it was hard for me to picture myself in an Ivy League. As I write this, flashbacks of my time writing application essays hit me like bullets. That was not an easy time, and I acknowledge the stress, pain, and confusion that came with it. Nonetheless, I am also struck by the memory of my friends, family, and teachers helping me in all ways they could. Now that this period is over for most high school seniors who shot their best shots to get into a college in the United States, I am bringing myself to another mindset. As I start to meet the incredible people who constitute the class of 2026, the idea that, in three weeks, my last term as a freshman will to an end, shocks me. 
The thought of coming back to campus as a sophomore is as scary of an idea as the thought of attending an Ivy League back when I was in high school. But, now, I feel better equipped to face the adversities that might come my way and adapt to the circumstances that I will find myself in. 
For starters, it is fair to say that everyone's experience at Dartmouth is one of a kind. No one will live the same four years as you. And, illustrating this, if you are an avid reader of my blog, you might be aware that I will not be seeing Hanover until the spring term of 2023. In both trying to escape the New Hampshire winter and planning ahead for my intended majors, I applied to Foreign Study Programs (FSPs) that will have me studying in two different countries for the fall and the winter terms. 
If everything goes well, in the fall I will be in Madrid with the Spanish program, furthering my knowledge of the language and fully immersing myself in the context of the Universidad Complutense de Madrid. Right after that, I will be heading to Auckland, New Zealand, where I will enroll in the Linguistics FSP – taking two lessons in LING, one in ANTH, and lessons in the Maori language. 
Although being a second-year student at Dartmouth is a very scary idea currently, I know that I will make the best of my time here – whether on campus or not. I look forward to living in three different continents throughout the year, and to all things, I will learn. If reading this, the fear and anxiety of starting a new life at college hit you as well, I want you to know that, although scary, these four years will forever change your life.