« All Posts by this Blogger
On Campus During COVID-19: Attending My Very First In-Person Class!
Up until today, I have attended all my classes at Dartmouth via Zoom. Today marked a milestone moment for me as I ventured inside a socially-distanced classroom for the very first time to attend my Global Health & Society class (an extremely timely and relevant topic given current events!)
Global Health & Society is a hybrid Geography/International Studies course open to Dartmouth students spanning all grade levels. Due to COVID-19, my classmates across all three of my winter classes have been joining our Zoom sessions from all over the world: Asia, Africa, Europe, the West Coast, locally in Hanover, and more! 
I was so excited when I learned that our two professors for this class were starting to offer an in-person component for students living on campus this winter alongside the synchronous Zoom option. This course is unique in the sense that we have two distinguished professors, alongside an upperclassman TA. Professor Adams is Dartmouth's COVID-19 Task Force co-chair, a physician, and professor of medicine at the Dartmouth Geisel School of Medicine. My second professor for this class, Professor Butterly, is a cardiologist, health-care executive, and teacher. It is such a privilege to have such knowledgeable and supportive professors with so much expertise available to answer questions during class or in office hours. They even co-authored a book on global health called Diseases of Poverty: Epidemiology, Infectious Diseases, and Modern Plagues which we refer to quite frequently for the readings. 
Neighboring Novack Cafe, the Carson first-floor classrooms are a brisk 90-second walk from my West House dorm room. I enjoyed the fresh winter air and soft snowflakes falling from the sky on the way to grab a mid-afternoon coffee before class at Novack. I used my Dining Dollars (part of the meal plan), then settled down in a comfy chair for a couple hours to work on my set of weekly reading responses for International Politics.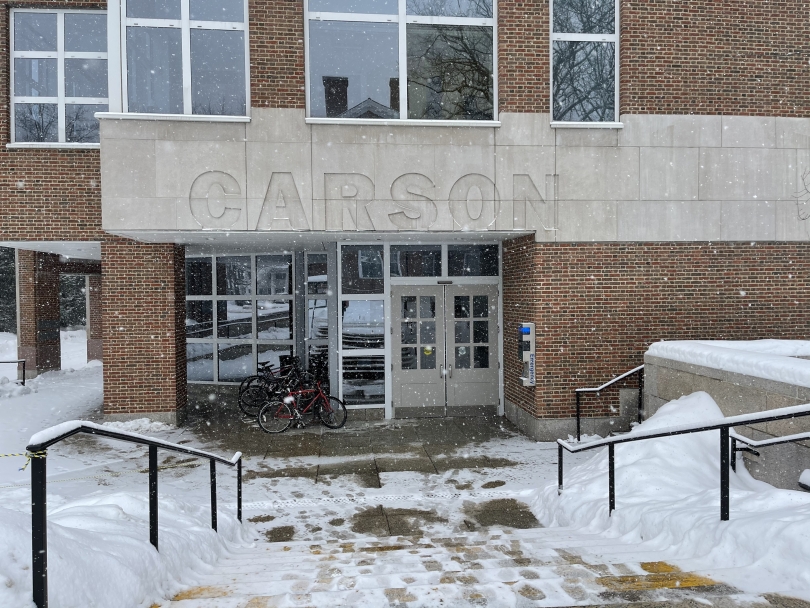 At 2:45 p.m., Professor Adams welcomed us eagerly into the large modern lecture hall. My eyes widened as I took my first glimpse of an academic classroom's interior as a Dartmouth undergraduate. I had seen the inside of a Dartmouth classroom once before — during my informal campus visit as a prospective freshman back in the summer of 2019 — but it felt much different stepping into a physical classroom as a student after being away for so long.
Today's lecture focused on a tuberculosis case study regarding subjects like drug resistance, the DOTS strategy, and different treatment outcomes. Of course, not everything about learning inside a classroom was exactly the same as I had remembered prior to the pandemic. We sat evenly spaced apart to maintain a safe distance while wearing our masks for the full class. After our ten minute break, guest speaker and professor of medicine at Geisel School of Medicine Elizabeth Talbot joined us on Zoom to speak about COVID-19 variants and New Hampshire vaccine allocation.
Not only did attending my global health class in-person put less strain on my eyes, but it was also super exciting to meet some of my classmates in real life for the first time beyond the computer screen. I found it much easier to participate in discussions, raising my real hand instead of my virtual one. I also finally put my school backpack to good use! 
COVID-19 has taught me to appreciate the small things like creating new in-person connections while overcoming Zoom fatigue, appreciating the beauty of a simple walk outside, and striving for balance in life both inside and outside the classroom. I am so grateful for the opportunity to continue my college experience and am excited to see what is in store on this four-year adventure of a lifetime!