« All Posts by this Blogger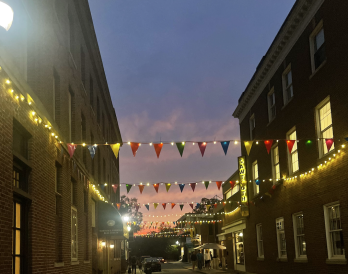 The Things I Missed in Hanover this Summer
Being far away from a little town dotted at the border between New Hampshire and Vermont has its pros and cons. However, while I sat halfway across the world, I started reminiscing and thinking—what are 5 things that I miss about Hanover that I could get nowhere else in the world?
Here's a list of just that:
Collis Smoothies: You know how they say you don't know how good you have it till it's gone? Well, this was me and Collis smoothies. I almost don't want to let anyone know about this, because the lines for smoothies have been shorter this term (maybe because the 27s haven't found out about it yet!) My recommendation is always a life changer with a scoop of protein powder to get you through the day. Who needs coffee when you can literally have your life changed?
The Spring Term: Everything gets better in the spring — your mood, everyone around you's mood, the weather, and the general vibes on campus. Spring term was the best time to be on campus. Many students eat outside on the Green, have a great time in classes, occasionally attend darties (day parties), and dip into the River. It was a truly a uniquely Dartmouth experience.
My Dorm: If there is one piece of advice I can give '27s or any prospective students, it's to make your dorm as homey as possible. When I actively started putting an effort into making my dorm feel like home, it became like a safe space for me. Even my bedroom at home slimmed in comparison to the good vibes of Morton 202. Strongly recommend LED lights, a sunset lamp (for the winter), and a lofted bed for maximum impact!
My Friends: Being halfway across the world gives you the biggest dollops of FOMO (fear of missing out) especially because most of my friends live on the East Coast and got to meet each other all throughout the summer. But thanks to the advent of modern technologies, I still got to keep in touch. You never realize how close you get to people when you're dropped in the middle of nowhere. To go back to hustling and bustling cities, makes you miss the isolated calm of your friendships.
Late Night: It's insane that two of the five things on this list have to do with food, but it should tell you that I love a good snack. "Late Night" is the name given to the '53 Commons' late night dining options. I love Late Night for two reasons — the great food (cheese quesos and mini chicken tacos always hit at 12 AM) as well as the randomness of the people you're going to run into. There's always going to be someone you know at late night, the question is who and when you're going to see them.

These are the first five things that come to mind when I think of what I missed at Dartmouth over the summer. I'm excited to get back to blogging and keep working on painting you an accurate picture of what all Dartmouth has to offer.