« All Posts by this Blogger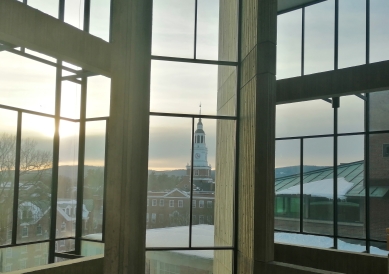 When You Know, You Know
There have been so many moments where I stopped and said to myself: "I am glad I am here." I have written about a few of them before, which you can read by clicking here. This time I wanted to talk about academic opportunities that made me realize Dartmouth was the right fit for me after all. 
Visits to the Hood Museum and Rauner Library
What I appreciate the most about classes in Dartmouth is that they are never restricted to the classroom. For my first-year writing class and first-year seminar, we have visited the Hood Museum multiple times. We visited different galleries to learn about the Hood Museum's approach called Learning to Look, designed to inspire viewers to think critically about works of art. Not only that, but we have also been to Bernstein Center for Object Study, in which we viewed a wide range of artworks from the 65,000 works in the Hood's collection that are mostly available for students to see. For my Sex, Gender, and Society class, we have also been to the Rauner Library to see Dartmouth's archives and view documents related to Dartmouth's history of going co-education. Such resources enriched our class discussions and made the learning experience much more engaging. 
Visitors, visitors, visitors
For my EDUC 20: Educational Issues in Contemporary Society class, Professor Wheelan brought a range of speakers to class from different backgrounds working in education or education policy. It was a great opportunity to see what the actual experience of teaching and public policy in education was like from teachers, administrators, principals and legislators. For my Writing and Reading Fiction class, we have read Detransition, Baby by Torrey Peters, who was invited to campus. I had a chance to attend her craft talk at Still North Books, organized by Office of Pluralism and Leadership (OPAL). Hearing an author talk about their craft changes your entire perspective on how you view their work.
Grabbing coffee with a prof!
In the fall term, I had a chance to grab coffee with Professor A'ness at Still North Books, who is teaching Sex, Gender, and Society. We talked about theater, the international student experience, our favorite books, and more. That's when I realized Dartmouth professors are truly invested in learning more about their students beyond the classroom.