« All Posts by this Blogger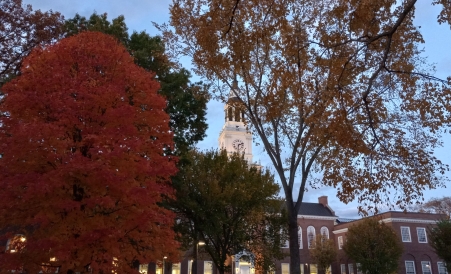 Choosing a Major (or at least thinking about it)
Let's ask the real questions. How does one find a sense of direction in the seemingly endless academic possibilities Dartmouth offers? How does one find meaning and purpose in college and life when trapped in the chaos of an ever-changing young adult brain?
How does one choose a major?
One of the biggest reasons why I applied to colleges in the United States was that, unlike Turkish or European universities, they did not expect me to pick my major while applying to bachelor's programs. I spent my high school years confused about the sense of direction I wanted to take, or as the common saying goes: "what I wanted to do when I grew up." When US colleges asked me to list my academic interests, I said I was a potential sociology and theater double major. A lot has changed since then. I graduated high school, the pandemic happened, and I decided to follow my childhood dream by taking a gap year. By the end of my gap year, I knew what I wanted to study in college: psychology. As was the case with most people, the pandemic exacerbated my mental health issues, and I found myself wanting to study psychology to help people like myself.
In my freshman year, I took one psychology class per term to see if I could see myself majoring in psychology. I allowed myself to explore other departments for my remaining courses. I took classes in Women's Gender & Sexuality Studies, Education, Comparative Literature, and English Literature. The creative writing course I took in my first spring term, CRWT 10: Writing & Reading Fiction, and getting involved in Spare Rib, the intersectional feminist zine, rekindled my interest in writing as a career path. That's why I started considering double-majoring in English literature with a concentration in creative writing and psychology. I am still allowing myself to explore courses in other departments I am interested in. For instance, the sociology course I am taking this term, SOCY 35: Sociology of Mental Health, made me think about minoring in sociology. What I love about Dartmouth's liberal arts education is that I have the flexibility of exploring without committing early on, which is such a breath of fresh air for a student like me who comes from a highly structured academic environment. But enough about me!
Let me tell you a little bit about how my friends are approaching course selection and majors.
J.L. (19) studio art major, reluctant econ major, on her way to becoming a starving artist, an unhappy but rich finance girl, or the greatest artistic genius to have ever graced this earth. The world is her oyster. I am interviewing her about the studio art major later in the year, so stay tuned!
O.B. (19) is undecided, anxious, and insecure, on his way to becoming an econimics & computer science bro. He was so unnecessarily nervous about picking a major that even his faculty advisor and the dean told him to "chill." "Dartmouth is flexible," they told him. The earliest you have to start thinking about your major is the end of your 5th term, which is the end of sophomore winter for O.B. That decision is in no way binding. "A lot of people decide to major in Middle-Eastern studies in their senior year," O.B. repeated what he learned from his faculty advisor and dean. When O.B. asked for advice about narrowing down his wide range of interests, the advice he received from his dean and faculty advisor was really helpful. They told him to keep exploring and be intentional about his class selection. They also congratulated him on his decision to explore a lot in his first year (almost all the classes he took were in different departments!) They advised him to identify the specific aspects of the courses he likes, narrow it out, pick classes with similar aspects, and see whether he likes it again. It's like the scientific approach basically: observe, come up with a hypothesis, and test it. Needless to say that O.B.'s anxiety was mostly resolved thanks to his faculty advisor and dean.
This was a little sneak peek into the possible major paths of three sophomores. Stay tuned for when we have to pick a major!