« All Posts by this Blogger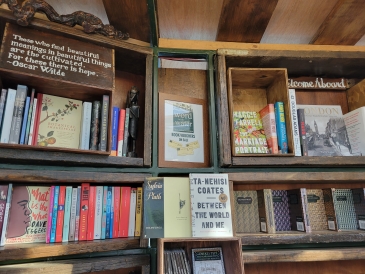 Arts and Literature in London
I'm about halfway through my term abroad in London and I've made a lot of valuable memories. My favorite thing about this study abroad experience has been discovering the art scene in London through my classes and solo excursions. Here are some of my favorite places and memories of the arts in the city!
Theater
One of my classes this term, called London Performance Now, requires us to go to different performances each week. So far, I've been to As You Like It in Shakespeare's Globe, Marina Abramovic Institute Takeover at the Southbank Center, Imposter 22 at the Royal Court Theater, and The Flea at the Yard Theater.
Out of all these venues, the Yard Theater has been my favorite. It's in an unconventional location for a theater, far away from all the other fancy venues, in an old warehouse. Despite the relative bleakness of the surroundings of the theater, the venue itself felt lively, cozy, and inviting. Maybe because it reminded me of the underground theaters I'm fond of in my city, Istanbul. I'm so grateful for this class and this study abroad experience for taking me to places I wouldn't otherwise hear of during a regular tourist visit. 
Bookstores!
If you've been reading my previous blog posts, you'd know that I've been to a fair share of bookstores in London. I will have to admit that I've been organizing most of my day trips around which bookstores I want to see.
I've been to the biggest bookstore in Europe, the huge Waterstones in Piccadilly. The unique bookstore in a boat, the Word on Water. A radical bookseller, Housmans. Not to mention the London Review Bookstore that also has a lovely cake shop inside.
My personal favorites, however, have been Gays the Word, and Skoob Books, which I've been to thanks to the wise advice of our Dartmouth professor traveling with us, Alexander Chee. Gays the Word is a small, indie bookstore that sells, as the name suggests, queer books by queer authors. The tiny bookstore is always bustling with people and the joy that the shop brings is contagious. Not to mention that Pride (2014) has been filmed there!
Skoob Books (yep, that's books spelled backward), is a second-hand bookstore that has London's broadest selection of secondhand books. The books I've bought from there are in perfect condition and they have a generous student discount. Skoob is like heaven on earth. 
Galleries and beyond
Outside London's many galleries, there is also plenty of marvelous street art to look at. My friend and I visited a street art exhibition, called the Colours Festival, in Camden, which has always been famous for its urban art. 
I've yet to see the National Gallery and Tate Modern, which are free to enter, so stay tuned!