« All Posts by this Blogger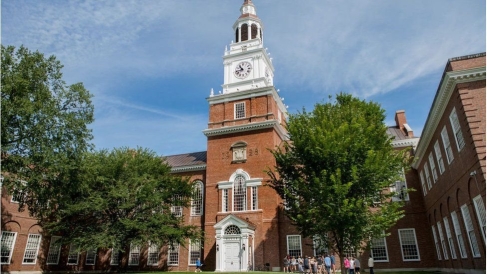 Reflections on my Sophomore Summer
Over this last term, I've been writing a lot about my sophomore summer and what this term is at Dartmouth. Usually, Dartmouth students look forward to sophomore summer as a time to bond with their class and have some fun. Since campus is predominantly made up of sophomores during this term, there are tons of opportunities to strengthen existing friendships and make new ones. In this post, I want to share some of my favorite and least favorite parts about this interesting time on campus!
Since there are significantly fewer people on campus than during the other academic terms, there is a much more relaxed atmosphere. I have enjoyed this quite a bit, especially since the weather has been so nice! I have also had the opportunity to take my first two-course term this summer, and I am also TAing my first class (Introduction to Cultural Anthropology)—so, there are a lot of firsts for me this summer. However, I think sophomore summer is one of the best times to experiment with new things at Dartmouth. Furthermore, taking a smaller course load has allowed me to think more creatively about how to spend my time on campus and how to use the resources available to me at Dartmouth beyond academics. Also, having my first TA experience helped me to realize the type of work I excel in and allowed me to use some of my extra free time to help students work through problems in course material! 
Since this term marks the halfway point of college for most sophomores who are on, people are heavily considering what they want to invest their time in before and after graduating. For example, many internship applications for junior summer are opening up, so many students are considering whether or not they would like to explore fields like consulting, tech, investment banking, and beyond. Navigating these options with my peers has been quite fun, as we are all making similar steps toward investing in our future careers.
This summer, I've been able to explore my interest in film. I started a video section in the college newspaper and have been shooting a documentary about a farmer in the Upper Valley with one of my friends. Exploring this new field has been very rewarding and has made me want to pursue film and nonfiction storytelling more seriously after graduation. 
I also had lots of fun this summer by going to concerts, exploring the upper valley, and going to Montreal! These are memories that will surely stick with me.
Although sophomore summer has been great, less student presence on campus has made Dartmouth feel even smaller than usual; therefore, after a 10-week term, I'm ready to return home to Chicago and take a short break outside the upper valley. Sophomore summer certainly met my expectations, but I'm ready for the interim between summer and fall, which will allow me to rest and approach the fall with lots of energy!