« All Posts by this Blogger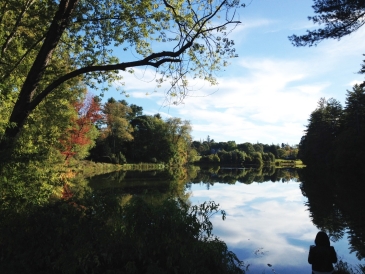 ED Deadline has passed! Now what?
Two years ago, like many of you reading the blog, I'd just submitted my early decision application to Dartmouth. Although I'd never visited campus, the D-plan, study abroad, and undergraduate focus were the three main factors that inspired me to take the plunge and apply early. Furthermore, my participation in Dartmouth Bound (albeit online) solidified my decision. As I finish my 5th (!) on-term at Dartmouth, there are definitely things I would have told the 17-year old version of myself after submitting my ED application. 
First: Dartmouth is not the end-all-be-all. The amount of stress I put on my shoulders thinking about my early application is mind-boggling to me now – while my Dartmouth experience has been fine, I'm 100% confident that my experience at any other university would also be fine. Each university has its pros and cons; if you go into Dartmouth thinking that it is your dream school and that your life will be perfect here, this is not the case. This logic extends to all universities – the idealization of the college experience is a crisis among high school seniors. While it's difficult to break away from the ED obsession, try and take time to enjoy your (last!) winter break as a highschooler. 
Second: the school you go to is much less important than what you get out of that school. Put it like this - each school has X number of resources. These resources will vary by institution; it is important to analyze things like school-sponsored internships, academic programs, study abroad programs, and extracurricular activities with the mindset of "how can I cater this university's programs to my own needs?" While for most students Dartmouth will have resources fitting their interests and future goals, inevitably Dartmouth cannot cater to all students. Indeed, some students come to Dartmouth dissatisfied with resources available for their specific goals; in my view, this can be avoided by doing your research. Each university has something to offer in your discipline of study: use the internet to determine which resources you can best take advantage of. 
While I am incredibly grateful for the resources that Dartmouth has given me to allow me to travel, research, and intern, I am confident that I could have done these things at any university. This is the bottom line of my argument: don't get stressed about early decision, because not even a great school like Dartmouth will do the work for you. You must use your own talents to take advantage of these resources at any university. 
But, still; it would be pretty cool to see you all on campus :)