« All Posts by this Blogger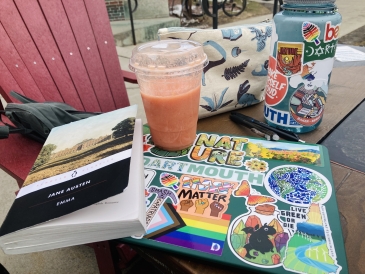 Collis Smoothies: A Love Letter
This blog post is a love letter to the best study partner, morning starter, and fruity friend a Dartmouth student could ask for: A Collis Smoothie.
The Collis Student Center is right on the Green, and part of the heart of campus. Within the student center is Collis Cafe, open every weekday serving soup, sushi, pasta, stir fry, sandwiches, and of course: smoothies. 
I am a regular customer at the smoothie station. The employees recognize me and know my usual order now. Though I have a regular order, I like to try a little bit of everything. Sometimes they have a 'smoothie of the day,' which I'll sometimes get – for example, in the fall, there was a pumpkin spice smoothie that seemed to be a campus favorite. If you're not inclined towards pumpkin spice or another special daily smoothie, they have an ingredients list for students to pick and choose what they want. Or, if you don't want to design your own smoothies, they also have 'signature smoothies.' They have the 'All Yellows,' the 'Big Green—' but my tried and true, ride or die, go-to smoothie will always be the 'Life Changer.' 
The life changer smoothie is the perfect concoction of strawberry, banana, mango, and guava juice (I was not familiar with guava juice before this smoothie sauntered into my life, but it's a great base for a hearty, fruity smoothie).
I have a Life Changer (other other Collis smoothie) most days (sometimes I have two). Aside from being delicious, they're a great way to get some fruit action in your diet – which can sometimes feel hard in college. Sure, '53 Commons (aka Foco, the main dining destination on campus) always has oranges, apples, and bananas, and sometimes pineapple, honeydew, melon, or mandarin oranges – but some of us are picky about fruit! ("Some of us" refers to me). Regardless, my favorite method of fruit consumption at Dartmouth is drinking a trusty Collis smoothie. 
You may be asking yourself: how are you getting this many smoothies with a campus meal plan? Well, there are lots of events on campus where you can get free meals! When I attend those, I often use my leftover meal swipe* to get a smoothie. 
In the case of free lunches, smoothies can become a late breakfast (during the lunchtime swipe), or a great midday snack! Even if I'm getting a free dinner somewhere, I'll still get one with my dinner swipe to take back to my dorm to put in the fridge for an easy breakfast the next morning! 
*The required freshman meal plan is called the "Ivy Unlimited" – which means we get a meal swipe for every 'meal period,' of which there are four: Breakfast, Lunch, Dinner, and Late Night. So, if I go to an event with a free lunch, I'll use my leftover lunch swipe for a smoothie!
TL;DR: the fruity high of a Collis smoothie is the best companion whether you're reading Foucault or Shakespeare. The party on my taste buds boosts my writing skills as I hammer out an essay, or bolsters my memory as I practice lines for a show. In conclusion: I'm in love with, addicted to, and the forever fan of Collis smoothies.