« All Posts by this Blogger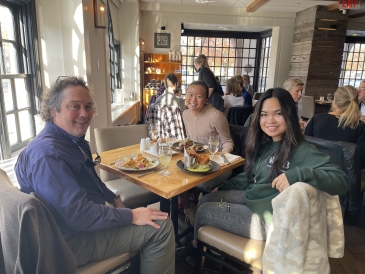 Take Your Professor Out to Lunch!
Ever have a super cool professor and wish you could get to know them outside the classroom? Look no further because the Undergraduate Deans Office offers a Take a Faculty Member to Lunch program at Pine Restaurant in the Hanover Inn, a lovely hotel right across the Green.
I invited my ENVS 3 Professor Richard Howarth, who has been teaching at Dartmouth since 1998, along with my good friend Ningning who took ENVS 3: Environment and Society virtually last fall and loved the course. It was so cool talking to an environmental and ecological economist. Fun Fact: Ningning and I are both planning to major in Economics and Environmental Studies! 
The process of requesting a voucher on DartHub and printing it took no less than five minutes. We were given up to $90 to spend at Pine between the three of us. I ordered the Pine Fries for the table and the Crispy Sweet Potato Tacos, which I'd give a 10/10. Ningning enjoyed the Fried Fish Sandwich and Professor Howarth got the Crispy Fish Tacos! In between bites of yummy food, we chatted about all sorts of topics—Professor Howarth's and our backgrounds and ancestries, what other fields Professor Howarth considered besides academia, the history of Dartmouth's Environmental Studies department, COVID-19's impact on global supply chains, how environmental economists work with policymakers to solve real-life problems, Professor Howarth's thoughts on the course ENVS 55: Ecological Economics he teaches in the spring, and more. I learned a lot more about Professor Howarth on a more personal level; he grew up in Southeastern New Hampshire and has loved the outdoors since he was a little boy, studying Biology and Society at Cornell before receiving his M.S. in Land Resources from the University of Wisconsin-Madison and his Ph.D. from the Energy and Resources Group at UC Berkeley. 
I also realized that Professor Howarth and I have a lot in common: we are both very interdisciplinary thinkers who enjoy spending time outdoors and have a passion for energy policy. In order to make a difference in the environmental issues we see today, we both believe in the importance of understanding economic models to address the negative environmental externalities that impact us worldwide. I left Pine feeling super inspired with a full belly and great memories of the conversation. 
The Take a Faculty Member Out to Lunch program is just one example of how Dartmouth's undergraduate focus truly allows strong student-faculty relationships to flourish. I will definitely be taking advantage of this enriching program in future terms and look forward to the conversations that emerge!