« All Posts by this Blogger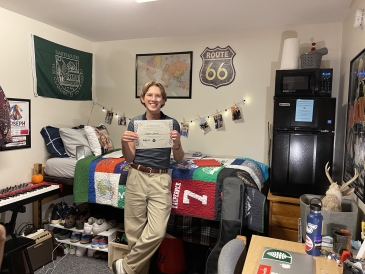 French Hall's Best Dorm Competition
As an undergraduate advisor (UGA), one of the most rewarding parts of my job is to plan fun programming events for the 35 members of my first-year floor that bring the community together and make everyone feel at home. Last week, I hosted a best dorm competition and open dorm event to give residents a chance to showcase their room setups and vote on winners to receive gift cards to restaurants in town. We all met up in the French Hall lounge at 10 p.m.—a great midterm study break—to go tour one another's rooms. It was a close competition, but Decker '25 from Dayton, Ohio won first prize and a $25 gift card to Molly's Restaurant and Bar! His impressive record collection, electric piano, photo wall, and cool vintage posters really stood out to the floor and showcased his authentic personality. Roommates Katie '25 from Demarest, New Jersey and Allie '25 from Chicago, Illinois won second place and $10 gift cards each to Starbucks. Their colorful lights, band posters, gorgeous tapestries, and photo walls made their room feel super cozy and welcoming. Honorable mentions include Caroline '25, Matt '25, and Eddie '25—all whose rooms radiated their own own vibe, some modern and minimalistic while others more colorful and themed.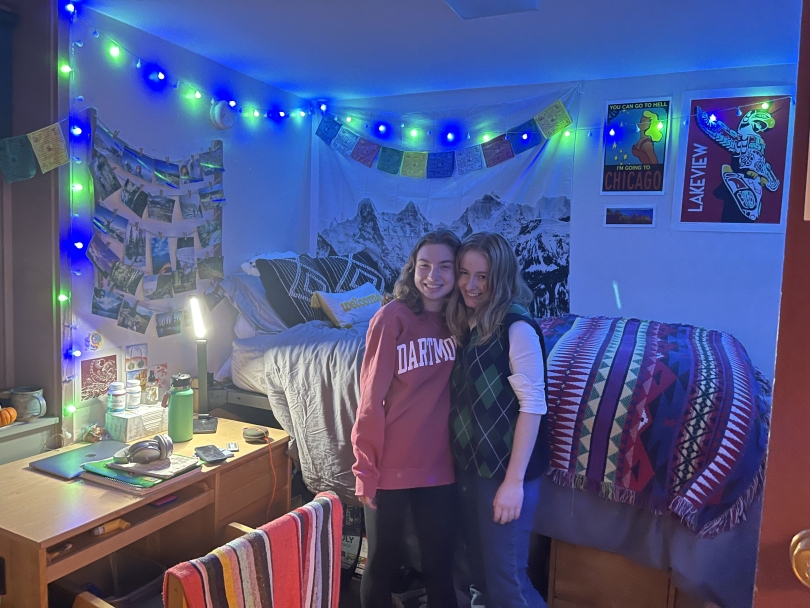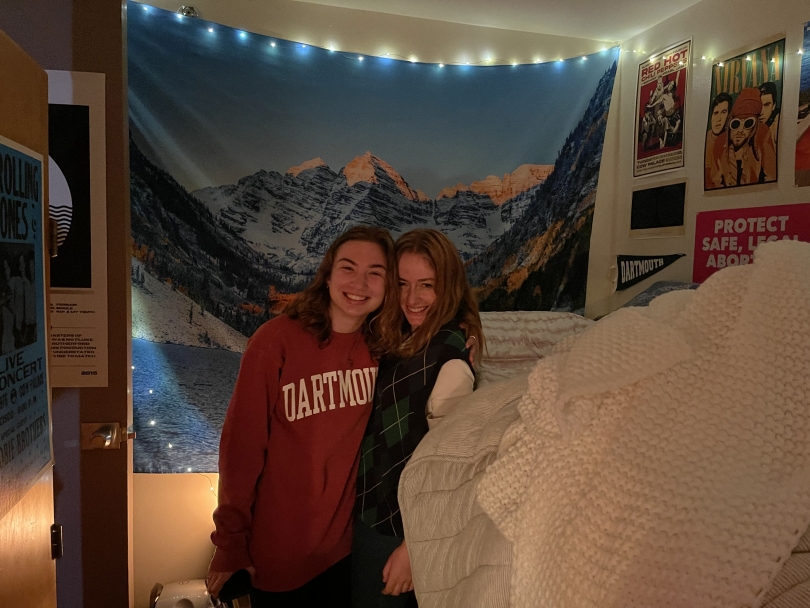 During my first year as a college student, I participated in many Dartmouth-sponsored free outdoor activities on campus with my own floormates – Spikeball on the Green, hikes, ice skating, sledding, bonding around the fire pits, and more. As a UGA, I strive to actively build this same sense of community by designing inclusive floor programming events and connecting my residents with resources around Dartmouth. In the future, I'm thinking of hosting a pasta night, team trivia on a wide range of topics, and self-care evenings with face masks and coloring books!
Being a UGA is truly the best job on campus and has given me the wonderful opportunity to develop close relationships with my first-year residents. Moving away from home for the first time may be tough, but with the support of floormates and those around you, you will find your place. Us UGAs are here to help first-years as they navigate course election, manage stress and wellbeing, and get set up for academic success here at Dartmouth. In fact, the reason I applied to Dartmouth Early Decision was because of its tight-knit undergraduate community with a strong emphasis on kindness, authenticity, and collaboration. That's all for this blog post, and see you soon!