You are here
« All Posts by this Blogger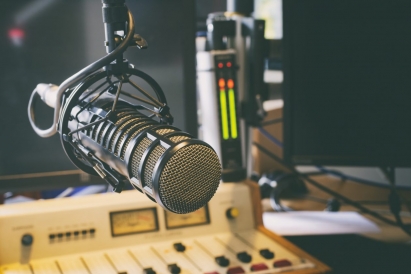 Mom, I'm on the Radio!
My first term at Dartmouth is almost over, and reflecting on my first ten weeks of college, what stands out to me are all the new things I have done. My Dartmouth experience started with my first fishing experience during Trips, and firsts have continued to be the theme. What I would like to talk about in this post, however, happened sometime between attending my first Economics class and my first Homecoming Bonfire: my first time in a radio studio and even better, my first time on air.
Even though I have now almost spent three months on campus, I still hear about spaces that I have never been to or didn't even know existed. In fact, I have been overwhelmed with all the possible activities and places available at Dartmouth. One such place is the radio studio that Dartmouth owns, right in the middle of campus in Robinson Hall. It was a Wednesday night, and although that might mean a school night for most people, Wednesday nights are an opportunity for fun at Dartmouth. I was hanging out in my room that night when my roommate asked if I wanted to go on the radio show he was doing with his friends. Always happy to do something new, I enthusiastically agreed to come along.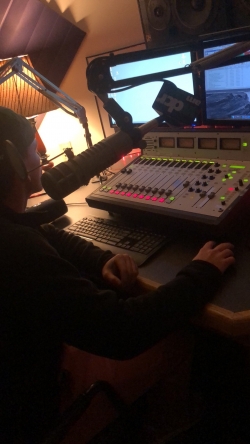 Walking into the studio, I was in awe of all the equipment that was available to students. Everything looked so professional, and my roommate told me that they even received a tutorial on how to use the studio. Therefore, I was not surprised when I found out that the WDCR (Web Dartmouth College Radio) had produced award-winning radio shows and prominent figures in the broadcasting industry. I had a lot of fun trying out the new experiment, talking into the microphone, and being on radio! I even got some of my friends from home to tune in, which was an awesome experience. If you want to tune in to my roommate's radio show, or any other Dartmouth radio show, you can do so at webdcr.com!
Being able to have your own radio show is just one of the many opportunities Dartmouth offers students, and I can now tick "being on air" off the bucket list. Having discovered the radio studio at Dartmouth, I am excited to find out what else I'm missing out on. In fact, while looking up information on the radio studio to write this blog, I discovered that Dartmouth has a TV studio as well! I only have two weeks left at Dartmouth, but I'll have to stop by the TV studio for another first. Who knows, maybe I'll write about that too!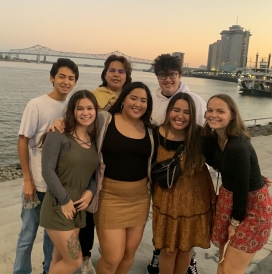 But at the end of the day, when people ask me what my favorite Dartmouth memories are, I'm always thinking about the place. Ice skating, pink sunsets, riverbanks, or canoeing? That's my highlight reel.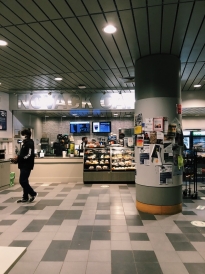 In a world where proper social distancing is so important, Novack Café has fulfilled a unique desire for current on-campus students; it's a place to study, hang out with friends, and grab a snack—all while staying COVID safe.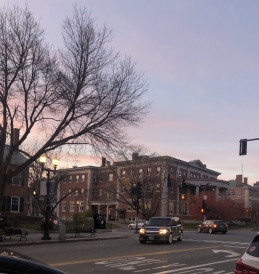 The last week of October was especially ~spooky~ as I was able to find more time than usual to enjoy my weekend with friends and the small-town-charm of Hanover.

While the student body at the College may be relatively small, students here recognize that their vote can hold a lot of weight in New Hampshire, a classic swing state.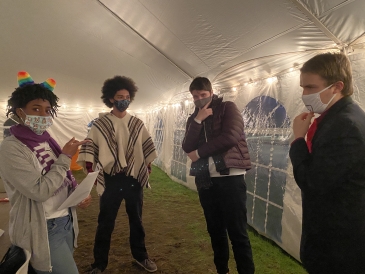 After walking around campus all day in eye-catching attire, we headed to a Murder Mystery night hosted by Phi Tau (a fraternity) in one of the tents scattered around campus.

On Friday, a few friends and I decided to take part in an event held by Collis After Dark, which organizes a lot of the student programming on-campus.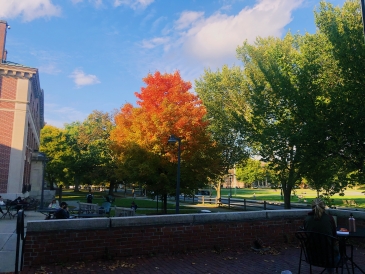 My personal visit to Dartmouth was a huge factor in my decision to apply, so in honor of Week 7, I hope this blog post can virtually illustrate some of what Dartmouth has to offer in seven images – worth 7,000 words!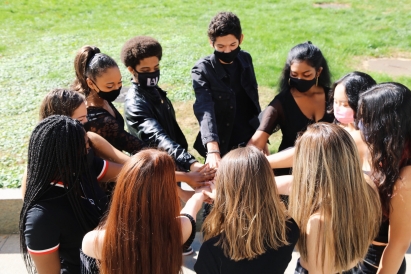 As a member of multiple performance groups on campus, I thought I'd give you a bit of background info on the opportunities here and discuss what we've been up to!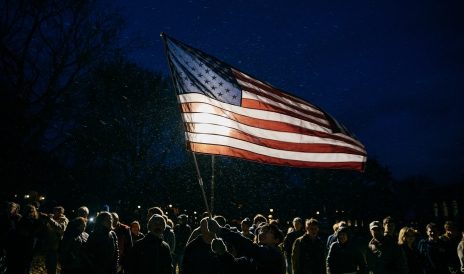 In honor of Veterans Day, I was able to interview student veteran Eugene Lovejoy '22 to hear about his experiences in the United States military and as a Dartmouth student. Read on to learn more!