« All Posts by this Blogger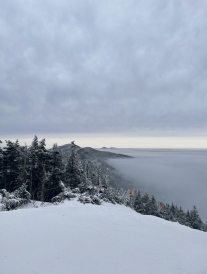 How easy is it to ski at Dartmouth?
My freshman year, I wrote a blog post about skiing and how easy it was for Dartmouth students to do so! You can find the blog post here, but I wanted to revisit the topic of skiing now that I'm a senior at Dartmouth.
First of all, I mentioned Freshman year that I spent a weekend visiting a friend in Vermont, where we went skiing! Funnily enough, I just visited him again exactly four year later! We had a great time catching up, and I gave him a tour around Dartmouth when he dropped me off.
However, while my ski trip to Vermont during my first year was my only skiing experience that year, I have really committed to going skiing more this year. Since it's my last year, I decided to buy an Ikon pass, which gives me unlimited access to several of the mountains in Vermont and New Hampshire. Although it's usually a very pricey pass, I got a college student discount which is available to everyone at Dartmouth! With the pass, I've been skiing every week and have visited several mountains! The mountains in Vermont are only around an hour away, which makes a drive back and forth very doable on both weekends and weekdays.
If however, you're worried about the big mountains being too far or too expensive, don't worry! Dartmouth is one of the few colleges that has a skiway, which I visited yesterday and had a great time at. The Skiway has discounts for all students, and you can rent ski gear and buy a daily pass for less than $50! An affordable and convenient skiing experience is such a bonus, especially for people who are just learning how to ski. One of my friends just started learning this year and is enjoying taking weekly ski classes at the Skiway. These classes are also super affordable, and you can even get financial aid for them!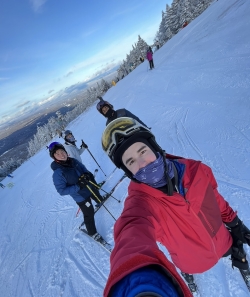 My freshman year, I immediately realized that skiing was a very accessible activity at Dartmouth. Four years later, that still remains the reality. However, I've also learned how easy it is to learn how to ski here, and to customize your skiing experiences to your preferences. Do you want to stay close and ski mainly on the Dartmouth Skiway? Get a season pass (there's a first-year discount) and get there through the campus shuttle, which runs every day! Do you want to go a bit further and ski one of the bigger mountains? Get a group of friends together and make the drive up! Although I don't have a car on campus, I have been able to find friends who are willing to go together, both on weekdays and weekends. 
Altogether, skiing (or snowboarding) is a really fun experience that is usually only accessible through a carefully planned and pricey ski trip. At Dartmouth, I can decide that I want to go skiing the night before, and make it a reality! Students of all backgrounds can find a skiing experience that works for them, and I think that's really great. No matter your experience or budget, I'm sure you can make skiing a fun part of your winter Dartmouth experience if you would like. So how easy is it to ski at Dartmouth? I couldn't imagine it being easier!