You are here
« All Posts by this Blogger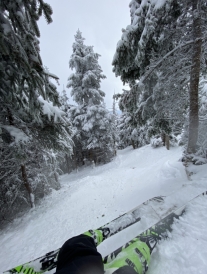 Skiing at Dartmouth? Yes!
I finally took advantage of Dartmouth's location this weekend and went skiing for the first time this year! The 10-week term goes by fast, so when I saw that I had some free time this weekend, I jumped at the opportunity to take a little ski vacation. It's amazing how easy it is to go skiing at Dartmouth, and there are a bunch of trails available.
Personally, I decided to not go to the Dartmouth Skiway this weekend and instead went to Vermont, where one of my friends has a house. Most people go to the Dartmouth Skiway, though, as it's only 15 minutes away from campus and there are shuttles that take students there. I thought it would be a good idea to get away from campus for a few days, so I was happy to go up north a bit more. Initially, we thought we would have to Uber to Vermont, but there's a public bus transportation system that is super cheap and convenient. I got on the bus at the Hanover Inn, which is a five-minute walk from my dorm, and the bus took me straight to Randolph, where the ski trails are.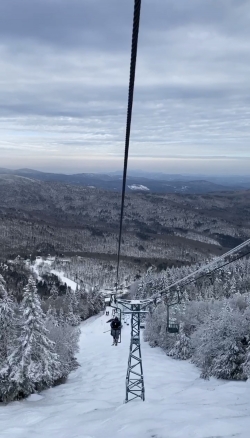 It's super cool how students at Dartmouth can go skiing basically whenever they want. For example, my roommate took a trip up to Vermont for MLK weekend. Last week, a classmate of mine went skiing in the morning and made our class in the afternoon! There's nothing like forgetting about your worries and going down the mountain, and I'm so grateful I can do that at any time here.
If you don't know how to ski, that's not a problem either! There are classes you can sign up for, and the ski instructors are students that you can get to know! One of my friends is a ski instructor and he's a super nice and cool guy. He got to campus early just for ski training, and he's definitely prepared to take inexperienced skiers around the slopes.
Most students at Dartmouth know how to ski, but that's not because people come in knowing how to. Rather, since skiing (or snowboarding) is super accessible and easy at Dartmouth, a lot of people get around to it eventually. I know I'll definitely be skiing more this winter, and I'm excited to see how much I improve over the next four years. I hope to see you on the trails!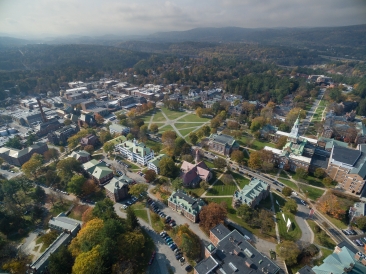 The Dartmouth Center for Social Impact (DCSI) is a hub for students seeking community service opportunities.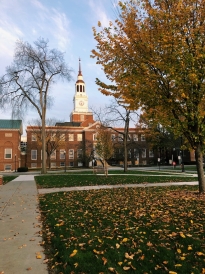 Looking back on my college search process, I remember really wanting to meet students to try and get a sense of the school's culture. To help you guys out, I decided to interview a couple '24s to help you guys get a sense of Dartmouth!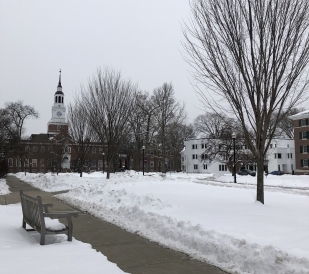 Snow, snow, snow, and more snow! Although my courses have definitely been difficult to manage, I have still been able to participate in some ~cool~ activities and admire winter in Hanover.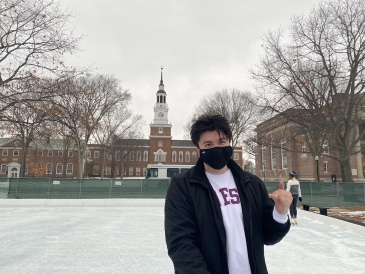 After almost a year off-campus, I came back to campus committed to the winter experience and I am simply loving it.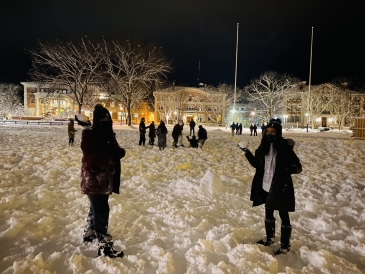 Dartmouth's tradition of a campus-wide midnight snowball fight lives on!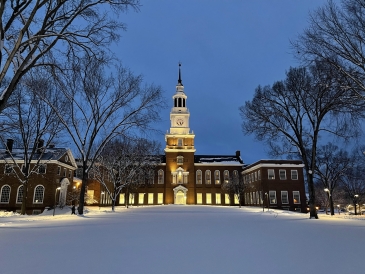 We so very wish you could step onto Dartmouth's campus yourself to witness the beauty of our winters live, but COVID-19 has made visiting campuses extremely difficult. I would love to share some of my favorite photos from this past snowy week!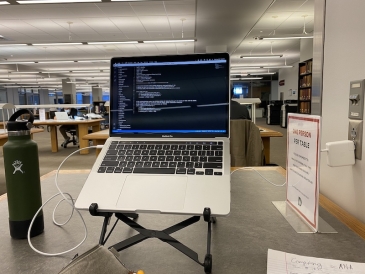 With lots of things (understandably) still closed on campus, it's nice to know that study spaces are beginning to open up again in a safe and responsible way.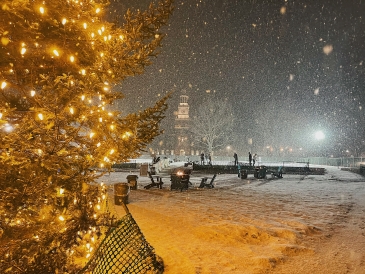 Have you ever wondered what a Dartmouth freshman's course of study may look like? The beauty of the D-Plan is everyone can customize their own schedules, so this term I'm taking International Politics, Global Health & Society, and Expository Writing.

Take a look at a few activities I do during Winter term as an on-campus student!