« All Posts by this Blogger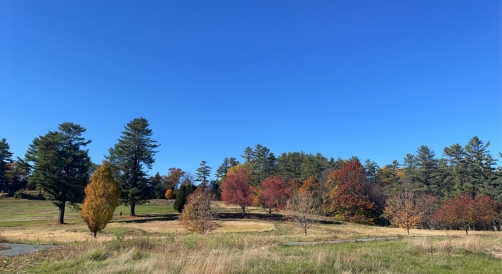 An adventure on campus!
It's Homecoming, which you can probably tell by the plethora of blog posts about bonfires, alumni, and community! Since it's my third homecoming (I missed one because of Covid), I had a good idea of what to expect. Homecoming is a great time to appreciate the community at Dartmouth and officially welcome the 26s, but it also involves a lot of craziness with alumni coming back to visit, huge events from both Greek houses and college programming, and more! Therefore, I decided to take a walk with some of my friends before Homecoming to take a small break before the big weekend. We went to Occom Pond, the golf course and Pine Park, which are all a short walk from the heart of campus. Although some people on campus take daily walks to Occom (also known as a woccom), I actually haven't been to Occom frequently and have never been to Pine Park! It was a lot of fun, and I brought back some photos to share from my adventure: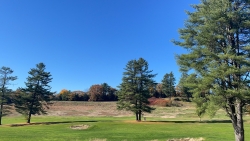 We first went to the golf course, which isn't really a golf course anymore - because of Covid-19, the school decided to stop maintaining the golf course. The golf team now goes to a nearby golf course instead, and our "golf course" is still open for students to enjoy the great views. Next to the golf course is Pine Park, which is a great little park full of trees, streams, and trails. I really enjoyed being inside the park during Fall, as I saw a range of different colors on the trees and fallen leaves! 
Next, I went to Occom, which I should definitely visit more. It's a really calm setting, and it's only a 5-10 minute walk from campus. I enjoyed the calmness of the pond, and saw several people take their morning runs around the pond. It was a great sight to behold! 
We ended our adventure in the early afternoon, which meant there was still a whole day ahead for craziness and bonfires. However, just taking some time away from campus to take a short walk around the surrounding nature made all the difference, and although it was my first time at Pine Park, it definitely won't be the last!