« All Posts by this Blogger
A Saturday in Rumney, NH
This week, I had the amazing opportunity to take a rock-climbing class at one of the country's best climbing spots: Rumney, New Hampshire. The trip was entirely covered by the Dartmouth Outing Club (DOC) and the Outdoor Programs Office (OPO), and I even got to rent climbing shoes, a day pack, and other climbing essentials through the DOC: all for free, which was super cool. My friend Meggie and I signed up together, so—on Saturday morning at 8:30—we grabbed breakfast, lunch, and some snacks from the Class of 53 Commons Dining Hall and packed into vans, ready for a day of climbing at Rumney.
After driving approximately an hour to Rumney, we got out of the car and met our instructor Laura, a professional rock-climber hired by the DOC and the OPO to teach us all about anchoring and leading in rock-climbing. For the first few hours, Laura taught us how to set up an anchor—a system made so that climbing rope is attached to the rock—using a variety of techniques. She also made sure to emphasize the importance of practice when leading a climb, especially since the lead climber must set up the anchor for the rest of the climbers.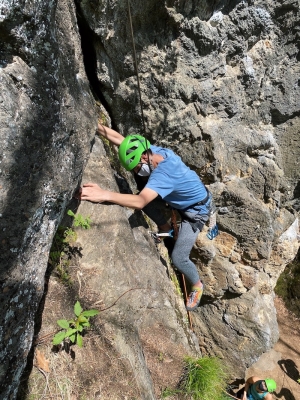 Finishing up the teaching portion of the day, we moved on to actual rock-climbing on a couple of routes. Laura wanted us to practice leading, so she had us mock lead; mock leading means that the leader climbs up with both a top belayer (who holds them to the anchor) and a lead belayer (who feeds rope up to the climber). Once at the top of the rock, the mock leader would pause and try to go through the movements involved in setting up an anchor, since it's a lot harder to make an anchor when you're suspended in the air than on the ground. While one of the 3 students on the trip climbed, the other two belayed, so we were always practicing relevant skills.
Being at Rumney and learning more about rock-climbing was super fun, and I felt immersed in the sense of place only available at Dartmouth. Where else could I learn about schist—a type of metamorphic rock—and then actually climb on it at a world-renowned climbing spot so close to campus? The opportunities to access the outdoors at Dartmouth are so unparalleled: a resource I really appreciate.