You are here
« All Posts by this Blogger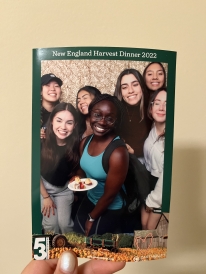 New England Harvest Dinner
One of my favorite staff associations on campus is Dartmouth Dining Services (DDS). They are the ones responsible for cooking our food and making sure that we are kept healthy and enjoy our meals by providing us with a variety of different food options.
Once every few weeks, whenever there is a festive day coming up (such as Halloween, Valentine's Day, and others), Dartmouth Dining Services makes themed dinners at our main dining hall: Class of '53 Commons (a.k.a FOCO)! 
I really love when DDS hosts these types of events because they cook food that goes along with the theme of the night. For example, on Valentine's Day last year they had a cookie decoration station, where students could add frosting, sprinkles, hot fudge, and other delicious toppings on heart-shaped sugar cookies. 
This fall, they embraced the autumn spirit by organizing a New England Harvest-themed dinner for Dartmouth students. At the dining hall's entrance, they stationed several tables where small local shops advertised their products and handed out delicious samples! I personally loved Muncha's Marshmallows: they were giving out different flavored s'mores samples, and I fell in love with their Cookies n' Cream S'more Bar! Their products are now available for sale at different dining locations on campus, such as Novack Café.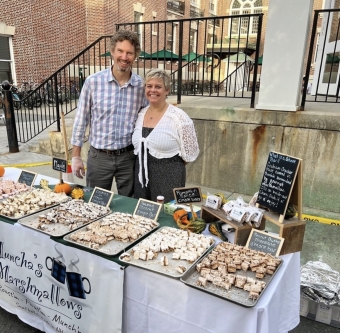 Inside FOCO, all of the food stations looked delicious! I had a tasty maple hotdog for dinner and apple cider as a drink! For dessert, my friends and I headed to the apple decorating station, where one could grab apple slices and sprinkle yummy toppings on top of them, such as chocolate chips, marshmallows, hot caramel/fudge, and oreos.
Right before we headed out, we stopped by the photo booth station. Whenever DDS hosts a themed dinner, they have a photo booth for people to take pictures that they can take home printed out and remember the special night! You can take as many photos as you want, for FREE! I have a collection of all the pictures I have taken during themed dinners, and I love them. 
I always have a great time at themed dinners, and I want to thank DDS for all of the effort they put into making them an unforgettable night for the students.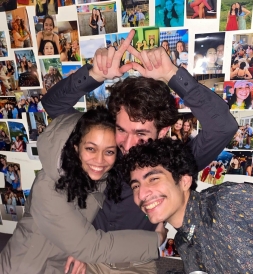 Anyone who knew me before coming to Dartmouth might be surprised to hear that, as from this Winter term, I have been taking part in the Greek system. As I recently found out, it can be lots of fun!
Antônio Jorge Medeiros Batista Silva
2025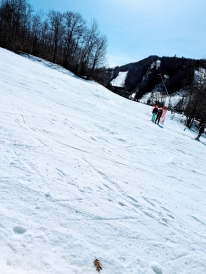 As the end of Winter looms and Spring is raring to dawn, why not take a stroll down memory lane, and look at Dartmouth Winters past?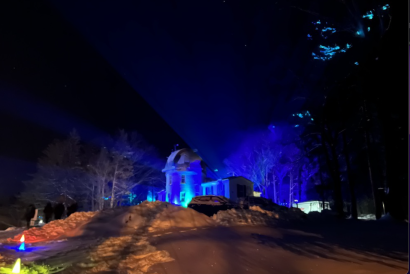 Among the festivities that take place at Bema is Bema Lights during the winter term. I will let the pictures speak to describe the astonishing atmosphere of this year's Bema Lights!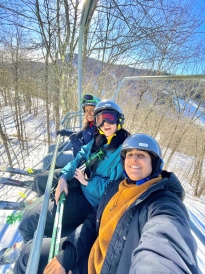 Without a doubt, winter carnival is one of my favorite Dartmouth traditions. Every year, I get excited about the myriad of activities there are to do, ranging from making ice sculptures to competing in a snowshoeing race.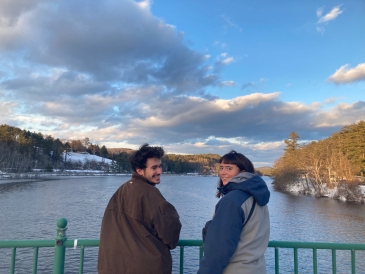 I applied Early Decision to Dartmouth. I had no doubt this was the place I wanted to call home for the next four years of my life. And, do you know why?
Antônio Jorge Medeiros Batista Silva
2025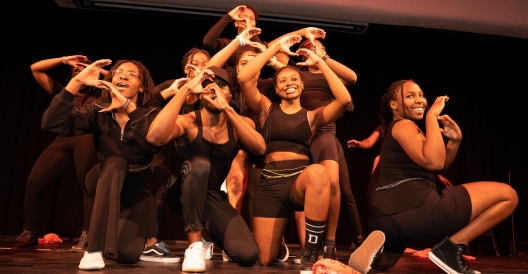 For many at Dartmouth, this month is all about Black Joy for Black Legacy Month 2023. Want some of that joy? Read on to find out all that's in store!

This term, I'm leading a special Dartmouth program called D-LAB; read on to learn more!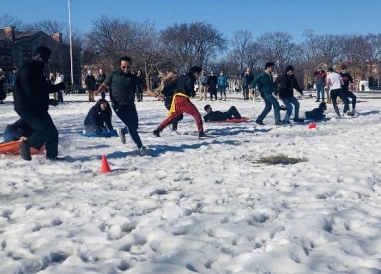 A highlight reel of my Winter Carnival weekend!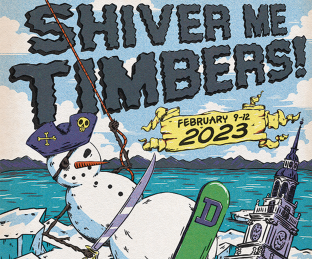 The Dartmouth College Winter Carnival is a beloved tradition that brings the community together to celebrate the winter season. With a range of events and activities to choose from, there's something for everyone to enjoy.