« All Posts by this Blogger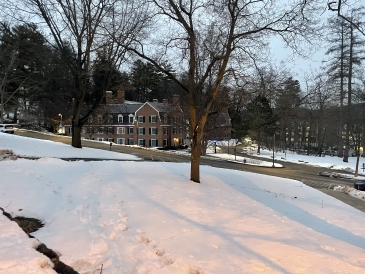 The Great Snowball Fight: A Sense of Tradition
A few weeks back, I received this email: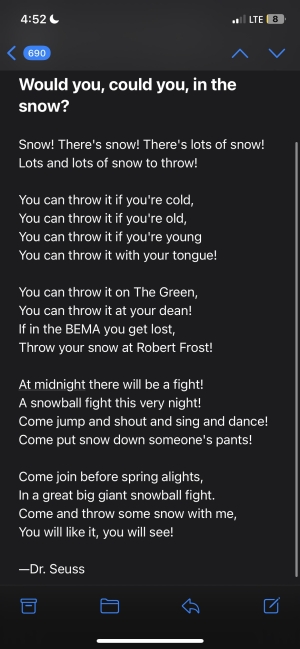 Every winter at Dartmouth, with the first significant snowfall of the term, a school-wide snowball fight is announced (at midnight). Every student gets the same email from Dr. Seuss and is encouraged to attend the fight. During the fight, I probably pelted at least four dozen peers with fresh powder from the green (Dartmouth's central point on campus where the fight took place).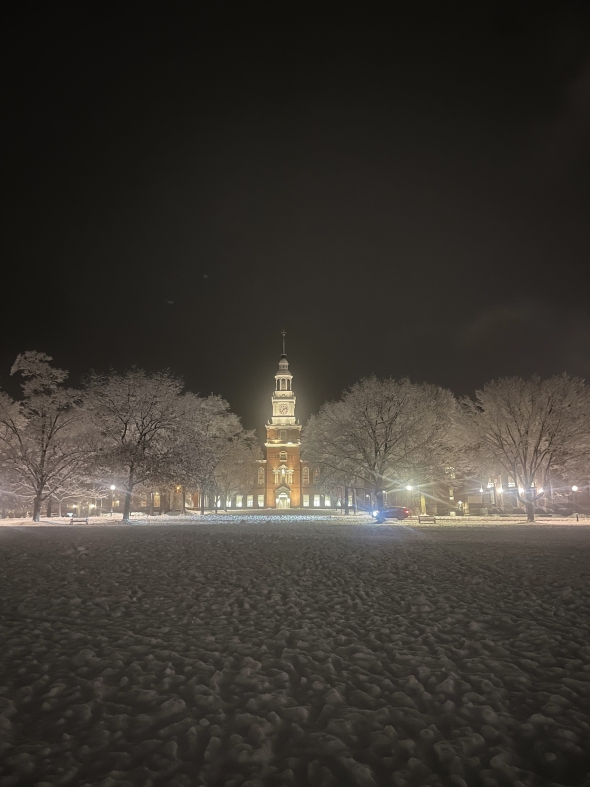 The only way I can describe the experience is blissfully chaotic. Some students were sprawled out on lawn chairs in the middle of the green watching the fight, others were zigzagging through the crowd on their cross-country skis. My friends and I had a blast, to say the least—the sheer amount of students who attended the gathering and the feeling of finally partaking in another famous tradition so many older peers had previously talked about made it extra special. It was one of those nights where you fall asleep with sore cheeks from the amount of laughter/smiling done. Or maybe it was the icy New England snowballs to the face. Besides the point, it was one of the most memorable nights I've had on campus.
Lately, my experience has me pondering the unique intricacies of Dartmouth's sense of tradition. Besides the snowball fight, I've been a part of the candlelight BEMA initiation my-first-fall-term, and the homecoming bonfire, both of which solidified my presence as a student on campus. I've realized it's experiences/student traditions like these that invoke some of the most significant feelings of student belonging. The amount of encouragement and joy I receive from partaking in any certain event is extremely prevalent, and I'm extremely grateful Dartmouth places such a large emphasis on collaboration in that way.
Traditions like the snowball fight have really allowed me to foster meaningful relationships with peers through fellowship. In short, the nature of tradition at Dartmouth is full of camaraderie and wholesome adventures, and every day I look forward to my next student tradition experience. 
Next on the list is Winter Carnival! If you aren't familiar with the carnival, check it out!
Your friend, 
Garrett