« All Posts by this Blogger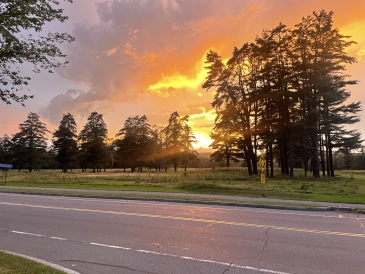 Back in Hanover!
So, what's new?
Flashback to the start of freshman fall, my dad and I road-tripped from Edmond, Oklahoma (my hometown) all the way up to Hanover as a sort of penultimate goodbye before my transition into a post-high school world. Needless to say, we had a lot of fun—so much so that we decided to regroup and go bigger this time around with my grandparents' RV. It was a long trip, and I'm glad to be back in Hanover finally, but it was definitely worthwhile. We spent 8 days on the road, stopping at various national parks along our route. We even made a pit stop in Canada for Niagara Falls! Our final stop was Storrs Pond right here in Hanover. 
Here's a picture of our campsite: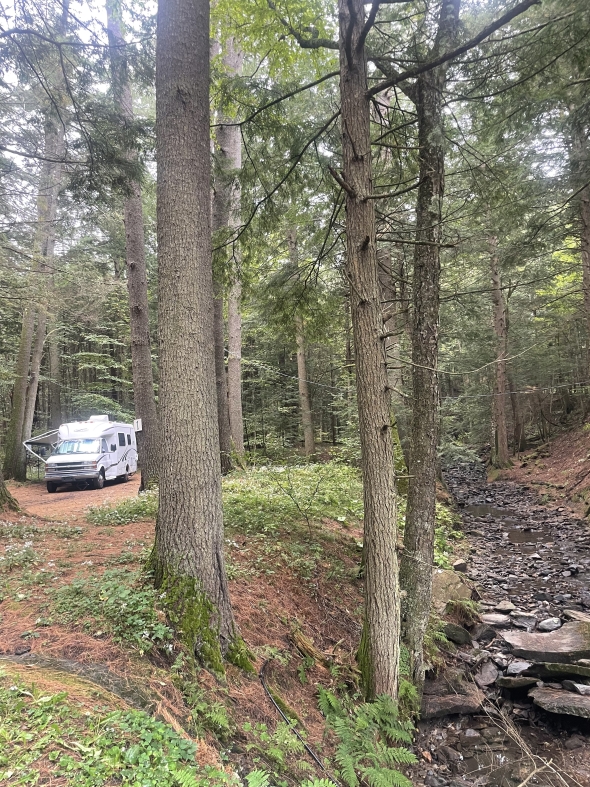 Apart from my journey back to campus, In my previous post, I briefly mentioned being uncertain of my course schedule for this fall—I'm excited to say that isn't at all the case anymore. I was able to enroll in a wide variety of particularly interesting courses. Admittedly, my language course was an obligatory selection, but the others were out of pure curiosity (the Dartmouth way)!
Here's a quick rundown:
To start, I'm taking Latin III which is the final chapter in the introductory Latin course sequence at Dartmouth. This course is different from Latin I & II in the sense that I'm now able to (somewhat) read actual Latin literature, and as a class, we're beginning to dissect unadapted selections from Pliny, Catullus, Ovid, and other Roman authors. It's been neat seeing my translation abilities increase from Latin I & II, and I'm excited to get to read some authentic Latin literature.
On that same note of Humanities-esque courses, I'm also taking my first ever History course at Dartmouth—History 8.03: Happiness: a History. This course piqued my interest because of its interdisciplinary approach to a seemingly odd concept. I've never really thought about the origins of "happiness" or even the fact that so many different cultures have drastically different ideas of what actually quantifies such a thing. Analyzing and learning about these ideas through so many different disciplines—philosophy, religion, contemporary psychology, economics—is the bread and butter of a liberal arts education, and I'm more than excited to get invested.
For my final course, I decided to take Psych 6: Introduction to Neuroscience. At the start of my Dartmouth career, I thought I was going to be a Neuroscience major, but I ended up wanting to take some other courses and explored other interests of mine instead. After a year of exploring, I thought to myself "Well, I still haven't taken a Neuroscience course yet, why not see if I'm still interested'?" And thanks to the liberal arts, I have plenty of exploration room left to do so ;)
For my first assignment in Psych 6, I'm working on building a small-scale model of the human brain out of Play-Doh. I don't currently have any pictures, but just know that it's going to be a masterpeice.
All that to say, I have a lot of enthusiasm for my courses this term and campus life in general, so stay tuned!
Your friend, 
Garrett