« All Posts by this Blogger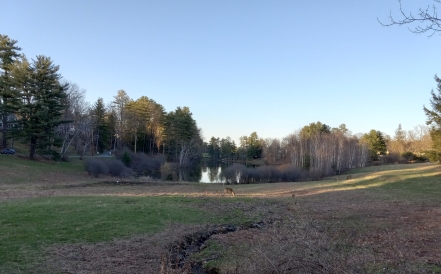 Staying Healthy(ish)
We've all been there: being sick during spring sucks. Being sick at college sucks even more. 
Yep, you guessed it right. I am writing this blog from my bed under a blanket, next to my loyal tissue box, and some herbal tea I smuggled from Turkey. I can't say I enjoy being sick because I feel like I am missing out on so many social and academic opportunities on campus. It does not help that my friends are currently on a Boston trip organized by Allen House while I am stuck in my room. But I also know that learning how to take care of yourself is an important part of the college experience. As I have been sick more than ever this year, here is what I have learned works best for me while taking care of myself physically, mentally, and emotionally. 
Being sick frequently is not only physically tiring but also mentally exhausting. It's because a typical Dartmouth student has a lot of academic, extracurricular, and social responsibilities. When you put even a mild cold on top of all that, everything can feel a little too overwhelming real quick. Fortunately, there are ways to manage all that stress load while taking care of yourself. Many Dartmouth professors encourage students to reach out to them if they are struggling in any way. All the profs I have reached out to when I felt overwhelmed have been super understanding and accommodating. 
Another way I have tried to manage stress is to make use of the wellness resources. Dick's House has counselors on call who help students through crises. They have been particularly helpful for me during winter term when I needed help. For students who may benefit from continuous therapy, they offer triage appointments, which may lead to a referral for community care for long-term services, or an intake for short-term counseling through the college. I have friends who benefit from both types of care. Though mental health services can be improved, I was surprised by the quantity and quality of mental health resources at Dartmouth, especially because I come from a country where the mental health of students is unfortunately not taken seriously. 
Apart from wellness resources, I have also found small yet effective strategies in keeping myself healthy overall. I used to deny the power of walks, but I have seen the error of my ways. Taking a walk around the campus whenever I find the time helps me collect my thoughts and de-stress in the not-yet-so-warm spring weather of Hanover. Another way I try to get some movement is by making use of the Alumni Gym as much as I can with some friends. 
In my third term at college, I am finally getting a better sense of how to take care of myself while maintaining my friendships, staying on top of academics, and engaging with extracurriculars. It is a tough learning curve, but Dartmouth offers you the resources to help you make the best of your college experience.