« All Posts by this Blogger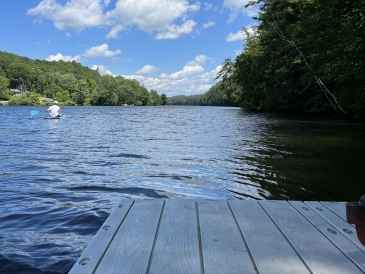 Why Freshman Summer?
During your four years at Dartmouth, almost every student enjoys a "sophomore summer" term, where only sophomores are on-campus as they get to foster a closer, tight-knit relationship with their peers. This "on" term is a part of Dartmouth's D-plan—by being on sophomore summer, students are able to take a different term throughout their next year (fall, winter, spring) off for an internship or other ways of personal development. But, as a freshman, I decided to take my summer term on, and I wanted to elaborate on why I made that decision!
Course-planning
As a pre-health student, I have a handful of courses to finish before senior year. I'm not entirely sure as to what I'll major in, I've decided to crank out as many pre-health requirements as I possibly could. Throughout fall, winter, and spring, I completed CHEM 5, CHEM 6, BIOL 12, and PHYS 3, which meant that I had two quarters of organic chemistry (CHEM 51 and CHEM 52), one quarter of physics (PHYS 4), and one biology course left. So, I am taking BIOL 13 this summer! 
Better internship opportunities on-campus
By being on-campus, I was able to continue doing the microbiology + clinical research internships I've been a part of since fall. I knew that taking classes and doing internships simultaneously would be better than finding a new research opportunity near my home and taking on a completely new project. 
Not being burnt out just yet
A lot of my friends were burnt out by spring term. This is completely understandable, as we underwent three consecutive terms full-time with three classes on top of other extracurriculars. But, for me personally, I didn't feel burnt out just yet. So, I thought this would be a great opportunity to continue pushing further! 
I'll most likely take next winter/spring term off during sophomore year to do a clinical internship off-campus, but we'll see if the plans change!