« All Posts by this Blogger
Why I Chose Dartmouth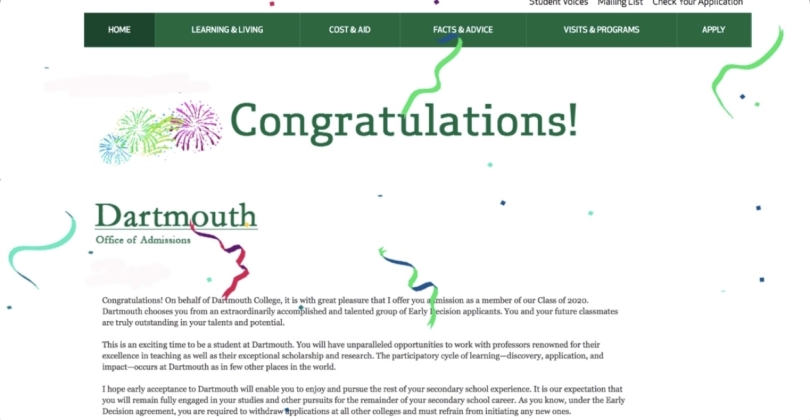 Welcome '26s and congrats on your acceptance to Dartmouth! The entire community is looking forward to welcoming you to campus this fall, and we can't wait to see the amazing ways you will contribute to our community. Some of you may have gotten into other colleges and are currently deciding on where to go, and for others Dartmouth might be your definite #1 choice! Either way, you might be wondering what to expect when you get to Dartmouth and why you should come here. I remember scouring the web for answers to these questions when I was deciding between colleges, and I hope this blog post provides some of these answers to you!
No. 1

Dartmouth's Community

Dartmouth has one of the most unique and special communities in several ways. Because of how small the college is, it's really easy to get to know people and make new friends. Moreover, Dartmouth students are friendly in every social setting. The friends you'll make won't be limited to your dorms and extracurriculars. You'll meet people through classes, during fun school events and in so many random circumstances. The entire Dartmouth community is also collaborative and supportive of each other. Everyone from your closest friends and acquaintances to your professors and TAs genuinely wants to see you succeed and will do everything within their power to help you.

No. 2

Classes At Dartmouth

I think taking classes at Dartmouth is a remarkable experience quite like no other. Not only are classes super interesting, but you'll also be surrounded by fellow students who are genuinely excited to learn and contribute to intellectual conversations. You will also learn from professors who are passionate about what they teach and are widely recognized experts in their field. Dartmouth professors are always enthusiastic to get to know their students either through working with them on research projects or just fun, casual conversations. If classes get stressful, you will always have the support of amazing teaching assistants and peer tutors who are more than excited to help their fellow students.

No. 3

Dartmouth's Location

Dartmouth's location offers an unrivalled college experience. Its rural location was something I was worried about before I got here, especially since I had never visited campus before I enrolled in the fall. But I've come to love and appreciate it because it has given me opportunities to explore and enjoy nature. Since I got to Dartmouth, I've learnt to ski, watched the sun rise from Gile Mountain, gone sledding in the snow and gone on spontaneous midday hikes with my friends. The small-town charm of Hanover has also made me feel deeply connected to the Dartmouth community.

I hope this post answers some of your questions about Dartmouth and makes you anticipate enrolling at Dartmouth in the fall!