« All Posts by this Blogger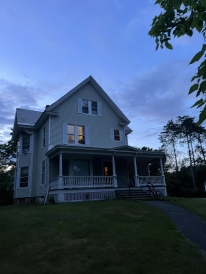 Living Off Campus
For the past two years, I have lived in the Dartmouth dorms, which I loved because of their accommodations and accessibility to campus. 
However, for the summer I chose to live off-campus, out of the dorms. While close to 90% of students live in the dorms during their time at Dartmouth, Sophomore Summer is often the exception to this rule. Sophomore Summer is the summer term after your sophomore year when all sophomores take classes on campus. Because it's a term of class bonding, many people choose to live off campus in large houses to get to know other sophomores.
I'm living in a house about a ten minute walk from the center of campus, which is very convenient. There are 12 people in the house, which means there's always something to do in the house! 
Because I'm living off campus, I have chosen to do the off-campus meal plan, which has less meal swipes and dining dollars than the on-campus plan. I have taken advantage of my house's kitchen, and I have eaten in many of Hanover's wonderful restaurants. My favorite this term has been Boloco, a gourmet burrito restaurant along mainstreet.
There are definitely both pros and cons to living off-campus. It is oftentimes cheaper than living on-campus, and you can live with many different people all under one roof. A downside is that it is a longer commute than the dorms, and most off-campus houses do not have air conditioning!
Overall, I have really enjoyed getting to know the other '25s (other sophomores) in my house this summer!