« All Posts by this Blogger
Freshman Year: A Retrospective
In one week, I will have completed my freshman year at Dartmouth. Typing that out seems crazy, because it feels like I just arrived for the FYSEP summer program yesterday! In this post, I will share the growth I've experienced both academically and personally. 
I came to Dartmouth intending to major in government. However, I was attracted by the option to study Arabic, and my vague interest in the Middle East inspired me to take additional classes on Islam and the Israel-Palestine conflict. During the fall term, I fell in love with my MES coursework, and spent lots of my freetime reading and learning more about the region. In the winter, I enrolled for Government 4, steering myself into the direction of the major I applied to Dartmouth with. However, while sitting in lecture and doing work for the class, I couldn't help but wish I was studying the Middle East instead. I'm not sure where this interest in the culture, politics, history, and language of the region came from, but it has defined my academic career ever since. 
Sitting in that Government 4 class, I knew it wasn't the right place for me. But I was nervous; what could I do with a Middle Eastern Studies degree? The more I thought about it, the more my mind kept going back to the MES course list on the timetable. So, I dropped the government class and took an Arab feminism class to supplement my Intro to MES class and Arabic. And as I learned more about myself and what I wanted from my life, I realized that continuing my study of the Middle East at Dartmouth, abroad, and in graduate school was what I wanted for my future. I eagerly picked up a creative project called Middle Eastern Voices at Dartmouth, which you're familiar with if you follow the blog. This year, I am going to Morocco, Israel, and Kuwait through Dartmouth, all because I took a risk and studied what I truly wanted to.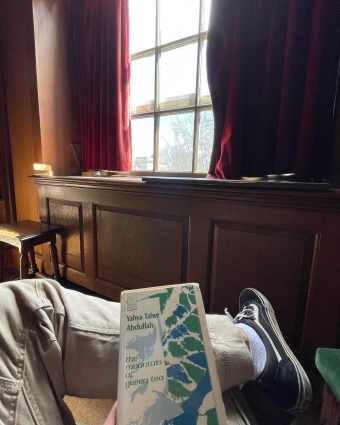 At this point in my Dartmouth career, all but one of the 10 courses I've taken have been for Middle Eastern Studies. While it would be a good idea to get some distributive requirements out of the way, I'm so glad I have been able to immerse myself in this field; for this reason, I am choosing not to pursue any double major or minor. I can't imagine myself attaining more intellectual, creative, and personal growth through taking any other courses, and I'm incredibly excited to begin my travel, research, and work in the region. 
If I've learned anything from my freshman year, it's that I should spend my time doing something I love. While it can be exhausting to be up until 2 am working on papers late in the term, the fulfillment and enjoyment I get from studying the Middle East is unmatched – and I'm incredibly excited to see where this passion takes me. 
Good bye, or in other words, !مع السلامة