« All Posts by this Blogger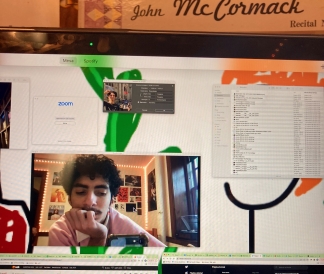 My Experience with Interviews!
People Places Pines has been a big part of my life here at Dartmouth. Through this job, I not only got one of my first professional experiences, but also a great network system and friend group! Thus, since joining the Admissions Office family, I have been excited to do more. Now, as I returned to campus as a sophomore, I was honoured to take on the role of International Student Ambassador as well. As part of my work, I have talked on webinars for prospective students and worked on formulating our yield season—when, after admitting a class, we try to show them how cool of an opportunity and how good of a fit Dartmouth can be. But, personally, the part I have been enjoying the most of my work has been conducting interviews. 
I remember as if it were yesterday when I had my own Dartmouth interview. Everything seemed to be going wrong that day: my computer had just broken, and I was just getting my last high school exams results. Nonetheless, I soon realised that there was no point in getting even more stressed because of that interview at the end of the day. The interviewer, with whom I keep in touch to this day, ended up being super welcoming and respectable of my anxiety. 
It took me a long to understand that the whole point of being interviewed is getting to know the college, its culture, and vice-versa. Your interviewer is probably as curious to meet you as you are. And that is especially true at Dartmouth, where getting to know alums and prospective students often feels almost like meeting friends!
Now, as part of my job, I get to be on the other side of the screen. I have just now started conducting interviews, as this is a new project in the Admissions Office. Traditionally, those are conducted by former students. Now, by putting myself out there to host these conversations with prospective students, I have been delighted to both get to meet them and to share my own first-hand experiences of being a Dartmouth student.
There is definitely no need to be nervous—but I think everyone has told you that already. What matters is making sure that your interviewer gets to know you, and that it should a joyful experience for both of you.