« All Posts by this Blogger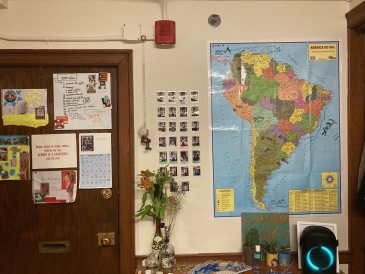 My classes this spring!
This Spring term is my first term at Dartmouth with my major decided and declared. I am truly excited to go around campus, attend classes, and hang out at Anonymous Hall — where the Linguistics department is located — as an official BA candidate! So, to honour and celebrate the officialization of my major, I decided to take three classes that will count towards my graduation. 
For clarification, I am now a Linguistics modified with Native American & Indigenous Studies major, as well as a Spanish minor. Thus, I will be taking LING21 — Phonology, and LING 80.09 — Speech Surrogates, both with Prof. Laura McPherson. One of the reasons I decided to double up on my course load with Prof. McPherson is because, for the past four months, I have been working under her guidance on her research project on speech surrogacy. Thus, I am not only super interested in the topic of our lesson, but also somewhat familiar with the discussions we will be having and the materials we will be studying. 
Moreover, I will be taking NAIS30.26 — Indigenous Geographies. This class, taught by Prof. Pochedley, focuses on the environmental ethics and interspecies relationalities from the perspective of Native populations, something I am truly interested in. Also, this class will count towards the NAIS portion of my major, for which I am only missing one class. It will also be useful to fulfill a distributive requirement of mine. As many other liberal arts colleges, Dartmouth has a set of expected fields students have to dive into at least once throughout their time here. Those are for students to end up with a well-rounded education, that does not focus on only one aspect of scholastic work. This class, interestingly, will fulfill my TMV (Traditions of Thought, Meaning & Value). 
It is incredible to look back at where I was as a freshman — so dislocated, not knowing what to do next — with the eyes I have today. I am so glad to be a sophomore who has already been abroad, declared a major, and is close to finishing all his distributive requirements. Dartmouth truly is a place where you learn to be the best version of yourself, and I am happy to say that it works amazingly well!