« All Posts by this Blogger
An Admissions Officer's Guide to a Great College Visit
I hope you are enjoying summer and some sunny weather, wherever you are! While you may think that summer is relatively calm for the Dartmouth Admission Office, we are actually gearing up for the busiest time of the year – we will see over 12,000 visitors come through our doors in the coming months. For those that may not be familiar with the D-plan, all of our sophomores will actually spend this summer on campus in classes, exploring Hanover, and taking frequent trips to the nearby river (just five minutes away!). With campus more alive than ever, summer makes a fantastic time for you to come and visit campus. However, that doesn't have to mean just a traditional tour or information session! Here are some of the best things to do if you have the opportunity to come to Hanover this summer…
No. 1

Take a tour and do an information session

Though this may seem pretty standard, this is a great starting point. You will hear an overview of the various parts of Dartmouth from an Admission Office or senior fellow (senior student workers who have a lot of experience in the admissions office) during the session, and then get to hear a student perspective and personal stories from the tour. These experiences will likely be just the base of your Dartmouth knowledge.

No. 2

Participate in a summer open house

 We will be hosting three thematic open houses this summer, all of which will be opportunities to get to see campus and experience our academic programs first-hand. You can check out my other blog post here to hear more about what to expect.

No. 3

Eat lunch in the dining hall

 The Class of 1953 Commons (or Foco, as it is affectionately known here on campus) is open all summer and will you give a small taste (ha-ha! )of what daily life on the Dartmouth meal plan could look like. The admission office can even give you discounted tickets at the front desk of our office. Make sure you try some of their warm chocolate chip cookies, they are truly life-changing.

No. 4

Visit Rauner, our special collections library

This is one of my favorite locations on campus. They have a "no glass" policy, meaning that you can physically get your hands on nearly everything inside (including, but not limited to: Shakespeare's First Folio and the original Book of Mormon). The best part about Rauner is you can always walk in and ask to "see something cool," as there is always at least one special item kept easily behind the desk for visitors to see.

No. 5

Speak with a student

 The best way to get to know our campus is by getting to know our community. I always encourage visitors to walk around the green and stop random students to ask them about their process or experience. Unless the student is running late to class, there's a good chance they'll be happy to chat and tell you a bit out their Dartmouth.

No. 6

Visit King Arthur Flour (or KAF!)

 There is a location right here on campus in our main library, Baker Berry. They have brownies the size of your head and are always ready to provide caffeine to our hard-at-work students. I can nearly guarantee that your campus visit will be improved with a tasty treat in your hand.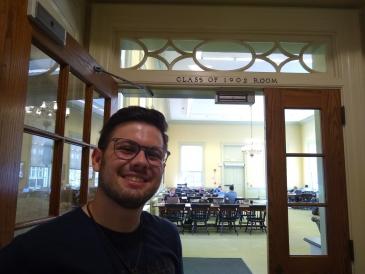 From an old room, a new face wants to introduce himself to you! What is he doing here? What is his thing? Does he even know? Find out this, and more, today!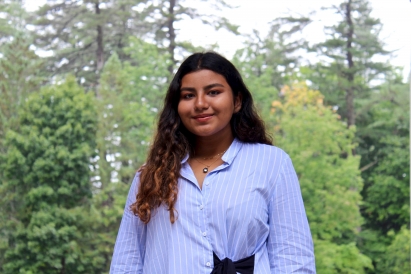 Ahlan, everyone! Welcome to my intro blog! 
My name is Lamees Kareem, and I am a '22 (freshman) from Jeddah, Saudi Arabia.

You're busy. Often from 7 am until long after the sun goes down, you're buzzing around your high school and community, and as admissions officers, we want to acknowledge your packed schedule.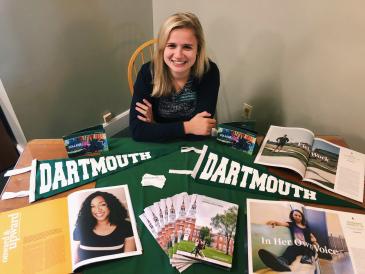 I hope you are enjoying fall and settling back into the rhythm of the school year! Like you, our admissions staff is head back to school all over the country, literally!
You can pretty much do anything your heart is set on, and most of the times you can also get funding if it's unpaid. The opportunities are endless!
Hanover is a gorgeous New England town, but every now and again I want to venture out into a big city, so the Dartmouth Coach becomes my best friend for a few weekends every year.
As my colleagues and I prepare to bid Hanover a fond farewell for a few months, I asked them what questions they love being asked when they're doing high school visits — or what they wish they were asked more.
There's nothing quite like first year trips. You spend five days around New Hampshire hiking or canoeing or sailing or horseback riding or cabin camping, etc. sans phone, so you have no choice but to get to know the people around you.
Time management, never my strong suit, is perhaps my principal obstacle at Dartmouth. There are so many people to meet, activities to do, and adventures to be had—not to mention books to read and papers to write!