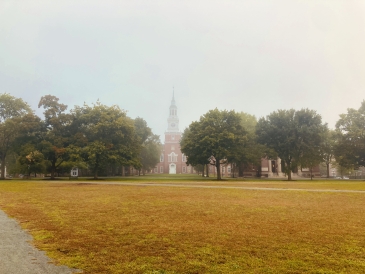 Getting Sick of Dartmouth?
Whoops! Wrong preposition – Getting Sick AT Dartmouth! An overview of my first experience falling ill away from home.
How it Started…
Saturday night – within 30 minutes of going back to my dorm and taking off my makeup from that night's performance of Pippin – I had a fever of 102°F. Pippin, for those unaware, is the school production that I have been involved in this fall term. I had terrible shivers and sweats, I felt weak and achy, and it took all the energy I had to shower before I fell asleep.
In the morning, I had to say goodbye to my partner, who had flown in to visit and watch me perform in Pippin. My friend took them to get breakfast at Foco, while I… honestly just laid in bed, unable to do much but sleep and cough. When they got back, they had brought me a breakfast – cheerios and an apple – to munch on if I felt up to it. I hugged them goodbye and then my friend waited for the Dartmouth Coach (a bus that regularly travels between Dartmouth campus and the airports in New York City and Boston) with them – and they were able to get home without too much of a hassle.
I, in the meantime, was on a different bus: the struggle bus. I was coughing up a lung, sneezing up a storm, and alternating between shivering and sweating all day.
No Pippin?
All this meant it was time to call in the understudy. I couldn't perform, and so my friend and castmate Isaiah Brown '23 wore the crown and played King Charlemagne for the day. As it turned out, another cast member was sick as well, and because of the logistical pieces that our combined absences would complicate in the show, the production team opted to cancel the performance and instead hold an invited dress rehearsal. That meant that anyone whose family had traveled could still see the show. This invited dress rehearsal format allowed for a fairly normal performance, albeit with the occasional "hold" for any issues with transitions or other moving parts that were complicated because of absences. Overall, it was an ingenious way to still have a performance for the day!
Work
A lot of emails were sent and a lot of extensions were graciously granted to me this week; all of my professors have been very understanding, and have encouraged me to prioritize my health. As a result, I have been able to do things at a pace that allowed me to sufficiently rest and get better this week, for which I am incredibly grateful. 
Friends Helping Friends
Getting sick away from home for the first time can be incredibly scary. Thankfully, I've had a wonderful support network to help me. Several friends brought me meals when I felt too sick to leave my dorm. Other friends brought me things to help with being sick (tea, honey, powerade, tissues) and other necessities I had just run out of at, of course, the most inconvenient time possible (shampoo, conditioner). I had friends send me notes from classes I missed, help me edit essays, and even call me on the phone during classes so I could listen to lectures and engage in discussions via speakerphone. Overall, I've felt very cared for and especially grateful for my friends this past week.
Fever: Disappeared
After a rough 72 hours, my fever finally disappeared Tuesday night. I still spent much of Wednesday resting, eating, drinking, and taking meds, but I was also able to get out of my dorm for the first time since Saturday, with a friend to get a proper meal (as opposed to just cereal and toast).
Updates, Now
I was able to recover enough to perform 4 shows of Pippin (Thursday-Sunday), and spend time with my grandparents, parents, and siblings who came to see me perform. 
It is now finals week, and my healing luck ran out yet again: I have developed a sinus infection. But, I was able to go to Dick's House – the headquarters for Dartmouth College Health Services – and get some antibiotics that should help me get better quicker (fingers crossed).
So far it has been a less-than-ideal end of the term, but I've been able to play the cards I've been dealt, thanks to a support network of selfless friends and compassionate professors and instructors.