« All Posts by this Blogger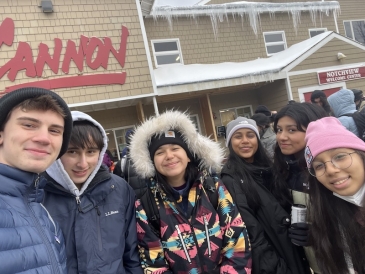 A Modern-Day Sorting Hat
I can vividly recall being confused about the Dartmouth Housing System and what it entailed. If you are a '27 or any future prospective student, it is not as complicated as it may initially sound. I am here to break it down for you!
Dartmouth follows a house system, which may be appealing to all the Harry Potter enthusiasts out there, except there is no Sorting Hat and it is a randomized software that places you. The six houses are West House, Allen House, South House, School House, North Park House, and East Wheelock House. Students have mixed opinions about the housing system, as it can mean only housing with other students who are in the same house. I personally do not mind the system, which could be because every school I went to before Dartmouth also had a housing system. 
Freshmen are assigned to first-year floors where all or most of the residents are freshmen as well. An exception to this is the Living Learning Communities (LLCs), which are residences created to foster a sense of belonging within a certain community. Some of them are: the Native American House, the Chinese Language House, and the Entrepreneurship LLC. However, residency in an LLC is not guaranteed and there is an application to get accepted into these spaces, which will be available in the summer.
Houses are co-led by a Residential Education professional staff member and a House Professor who lives nearby! Each floor is also assigned an Undergraduate Advisor (UGA) who helps foster community, provides support, and makes sure all the residents live cooperatively in the common space they share. 
Each House hosts multiple house events throughout the year, which can range from an apple-picking trip to a trip to Six Flags! I belong to West House, which I may have already mentioned multiple times in my previous posts. Every West House trip that I have been a part of has allowed me to take a guest, regardless of their house. The picture above is from the West House ski trip we had this term!
Housing accommodation and adjustments are prioritized by the Office of Residential Life. This may be related to accessibility, medical needs, religious needs, and any such necessity. Before being assigned a dorm and roommates, all freshmen are required to fill out a form that asks for details about their lifestyles. This can include what time you wake up in the morning, if you have any pets, or if you want gender-inclusive housing or not. There will be a space to note any housing accommodations needed. It is beneficial to keep in mind that you may need to provide proof of a medical need. You will also be able to rank your preference for a type of room, which could be a single, double, triple, or quad! 
Currently, two terms into my first year, my experience with the housing system has been positive. With all that said, West House Best House!