« All Posts by this Blogger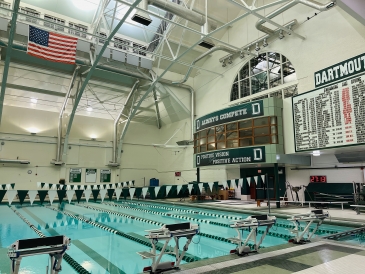 My Very First Club Water Polo Practice
When I first heard the news that the club water polo team can now practice in the water together every Sunday evening, I was ecstatic! I hadn't passed a water polo ball or swam laps in a pool in over a year, but I decided to join the club team in college because the sport was such a wonderful part of my high school experience. Dartmouth is home to 35 Division I varsity teams, 33 club sports, and a variety of intramurals, so I assure you that there is a place to get involved here for student-athletes of all levels.
Although we had connected virtually on Zoom with weekly check-ins, fun trivia games, and intense rounds of Among Us, meeting five of my teammates and Coach Jim in real life was an entirely different experience. Dartmouth students are super safe about following COVID-19 guidelines; we keep our masks on until entering the pool, only allow a certain number of girls at the in-person practice, and maintain a reasonable distance between ourselves and our teammates at all times. 
Yesterday night marked my first time at the Dartmouth pool. I attended a high school located in Southern California (and spent my middle school years in Manila, Philippines), where we solely played and competed in outdoor pools, so Dartmouth's indoor pool looked completely new to me! It is conveniently located underground below the gym, just past the cardio section. Immediately upon entering the facilities, the familiar smell of chlorine on the pool deck reminded me of fond memories from years spent with my teammates in the water. We signed up on Engage, an online platform many Dartmouth organizations use to host events on campus. Our practice consisted of conditioning swim sets, head-up freestyle, and introducing the ball in the water. We ended practice with some passing drills, gradually challenging ourselves further by extending the distance between partners with more lanelines. Due to COVID-19, we haven't been able to scrimmage or engage with the contact aspect of the game yet, but I'm definitely looking forward to these experiences in upcoming years when it will be safe to do so again.
By the end of the ninety minutes, I was feeling quite tired (especially because I had also skied at the Dartmouth Skiway earlier that day!), but super happy to have attended practice. The walk back from the pool was not nearly as bad with my new teammates accompanying me. My hair still froze, but the laughs and conversations we shared were well worth the trek. I joined the club water polo team to bond with a supportive group of women passionate about the sport and having fun. So far, the team has been nothing but welcoming! In future terms, I am really looking forward to weekend trips across New England to participate in tournaments with different collegiate teams such as Northeastern and Boston University. A few of my high school water polo teammates are actually attending these schools in Dartmouth's league, so it'll be super exciting to compete with them here on the East Coast. That's all for this blog post, and I can't wait to check back in with you next week!