« All Posts by this Blogger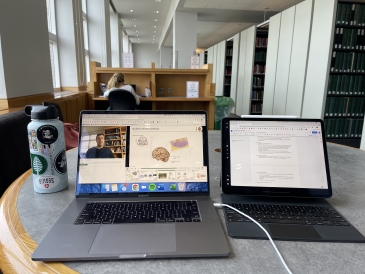 A Day in My Life: Week 4 Freshman Spring Edition
When I was applying to colleges, I absolutely loved watching 'A Day in the Life'-style vlogs. I wanted to share what a typical Monday at Dartmouth is for me to show there is truly never a dull moment here in Hanover, New Hampshire!
8:00 a.m.: Wake Up — It's time to wake up, take a shower, and get ready for the day ahead. It's an especially bright and sunny Monday morning of Week 4; we're nearing the halfway point of the term. All three of my classes this term are on Mondays, Wednesdays, and Fridays, which means my Tuesdays and Thursdays are pretty free to study and also enjoy my college life.
8:30 a.m.: COVID-19 Testing — Dartmouth students living in the Upper Valley are tested at least twice a week. Morning walks to the testing center are quite relaxing and a great way to start my day on an active note. Sometimes when I have time, I stop by the gym to get some cardio in because it's right on the way to the testing center.
9:00 a.m.: Head to Novack Cafe — I love working at Novack because it's just a two-minute walk from my dorm room, and right next to the library. I order a venti iced chai latte and parmesan leek danish with my breakfast meal swipe and sit down in a booth to get some work done before my first class of the day. I also transcribe some of my interviews for an article I'm writing for The Dartmouth, our school newspaper, covering the Dartmouth Design Collective's recent Designathon. Novack is the perfect place to work on campus when you want light background study noise and a cup of coffee!
10:20 a.m.: ENGL07.55: Searching for Justice — We are currently working on developing our own theories of justice from American literature and stories. First-year seminars are awesome opportunities to satisfy a distributive requirement while learning about an unfamiliar topic that stands out to you. These seminars range from "Brain Evolution" to "Future of Food" to "Theater for Social Change" and much more!
11:45 a.m.: MATH010: Introductory Statistics — Our lecture focuses on the multiplication rule for probability. My professor stays after our quiz to explain the solutions in depth for us, which we really appreciate!
1:00 p.m.: Lunch — I head to Collis Cafe, less than a three-minute walk from my dorm room, to pick up sushi to-go as well as a mango smoothie. Yum!
2:35 p.m.: PSYC001: Introductory Psychology — Today, guest speaker and world memory export Lila Davachi visits our class to speak on her field of expertise. We ask questions ranging from the science behind what happens when our brain blocks out a traumatic memory at a young age to why time seems to go by faster when we're enjoying a day. Her talk is super insightful and brings a sense of the outside real world to our classroom.
3:45 p.m.: Study at Third-Floor Berry (3FB) — I review my psychology lectures in the quiet of Third-Floor Berry, a productive study location I recently discovered while exploring the library with my new spring roommate.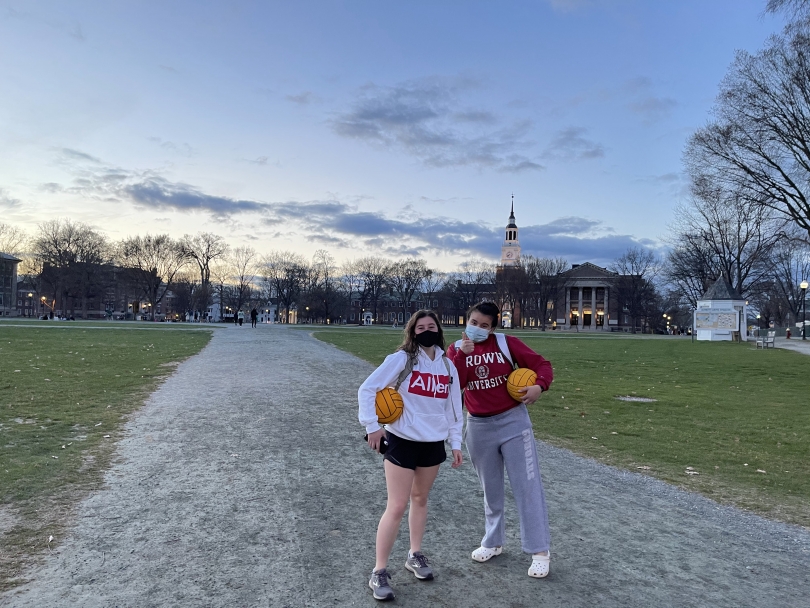 6:15 p.m..: Water Polo Practice — Coach Jim does not go easy on us, but practice with my water polo girls is always one of the highlights of my day. It's great to get into the pool on a semiweekly basis these days to work on conditioning, legs, passing, and head-up swimming. 
8:00 p.m.: Team Dinner — After showering, my team grabs a late-ish dinner together at FoCo, our main dining hall. I get the yummy Nashville hot chicken with buttered parsley egg noodle and steamed peas, the classic chicken noodle soup, and of course — a chocolate chip FoCo cookie for dessert.
9:00 p.m.: Study at Novack Cafe — In between chatting with friends, I work on my article for The Dartmouth and an upcoming statistics problem set during these three hours.
Midnight: Time for Bed — What a productive day! I quickly get ready for bed, watch the last 15 minutes of The Circle on Netflix with my roomie, and then it's time to go to sleep. I'm excited for a chill day tomorrow with no classes.