« All Posts by this Blogger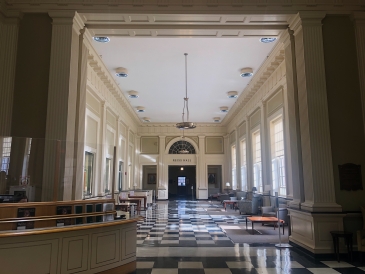 A Day in My Life: Midterms Edition
Since Dartmouth is on a fast-paced quarter system, students are constantly soaking in new information. Let me take you through a day in my life preparing for my Education 1 and Econ 1 midterms!
8:30 a.m.: Rise and shine! I open my window and am happy to see that it's bright and sunny today. I start getting ready for a productive Week 8 Wednesday.
9:15 a.m.: Breakfast is the most important meal of the day. I head to FoCo, our main dining hall, for a hearty meal of scrambled eggs, french toast, bacon, orange juice, and a fruit cup.
10:00 a.m.: Back in my dorm room, I pop into my Education 1 professor's Zoom office hours to ask her a question about our midterm on Friday and also interview her briefly for a news article I'm writing about the end of fall term for The Dartmouth, the school's newspaper.
10:30 a.m.: My Econ midterm is tomorrow, so I make reservations in advance to study at Baker-Berry Library (see above photo). I review game theory, marginal rates of substitution, and externalities for a bit, then decide to shift gears into preparing for my Education midterm. I brush up on metacognition, learning styles, cut scores, and more. Productive start to the day!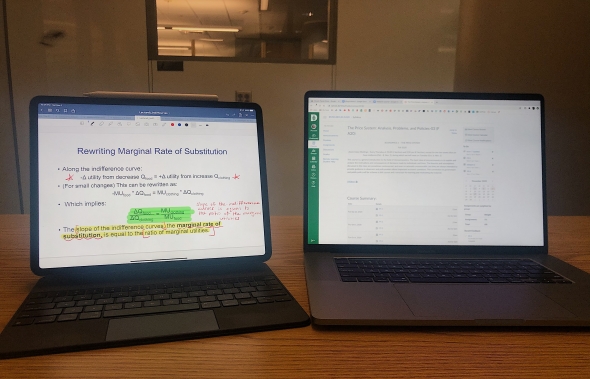 1:00 p.m.: I meet up with a friend, then head back to FoCo for buffet-style lunch. I eat some vegetables, chicken stir fry, a slice of Margherita pizza, and a classic chocolate chip cookie.
2:35 p.m.: It is time for my first class of the day – Introduction to International Development! My classmates and I spend this Wednesday afternoon block learning about China's migrant workers. Next class, a guest speaker is coming to speak on Bangladesh's garment industry, specifically on his research with fast fashion and worker's rights.
4:30 p.m.: After sitting down for a while, three friends and I decide to take an afternoon study break in the Zimmerman Fitness Center's weight room. Working out is a great way to relieve stress and stay active!
5:30 p.m.: I grab a smoothie and Collis pasta for dinner to-go and head to an in-person pod meeting for the Dartmouth Center for Social Impact's first-year Foundations program. We play a fun card game called Clowns Applaud Humanity (a PG spinoff of Cards Against Humanity) for socially distanced team bonding.
7:00 p.m.: I work on some more Econ with a study buddy in my dorm. After rewatching some lectures and redoing the problem sets, we're both feeling much more confident than we were earlier in the day!
9:30 p.m.: I walk with my friend to Novack Cafe to use our late-night meal swipes on snacks. Novack gets very social at night, so I talk for a bit with some friends in line and near the tables.
11:30 p.m.: I head back to my dorm and wind down before bed. After an action-packed day, it's time to head to bed and get some rest for tomorrow's exam. Good night!
As a senior, especially during times of COVID-19, there is a lot of uncertainty in my life and those of my friends.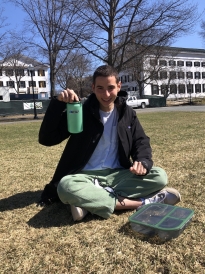 Spring has sprung in Hanover and the term feels like it's really getting off the ground with classes starting up in full swing, warmer weather, and the occasional muddy day.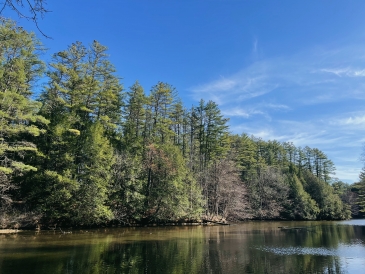 There is never a dull moment at Dartmouth! One of the main reasons why the College is so special is our unique D-Plan, which operates on the quarter system.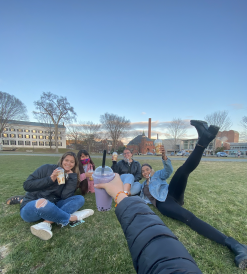 Wondering what a two-course term at Dartmouth is like? Well, here's the scoop!

Thinking back, this winter has been a whirlwind. I wanted to use this final blog post as an opportunity to organize my thoughts and share some reflections as I move into my final term!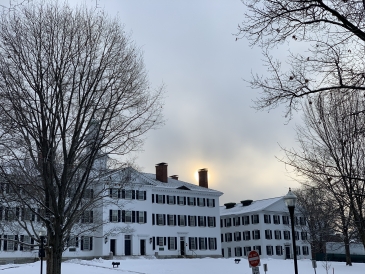 This one's for you intrepid, amazing prospective students!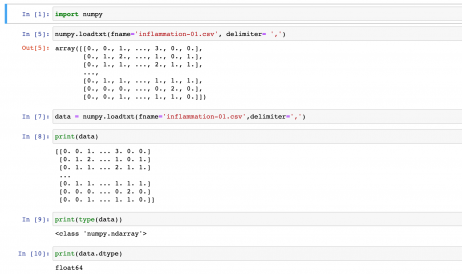 One of Dartmouth's programs that I have had the pleasure to take part in is the Women In Science Program!


For the students who want to start looking into colleges --- here are some resources that helped me learn more about the colleges I was interested in and wanted to continue looking into!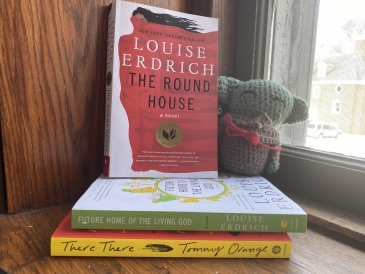 Dartmouth is home to a ton of different departments, but one of my favorites is the Native American Studies (NAS) department. Let me tell you why you should take a NAS class at Dartmouth!