« All Posts by this Blogger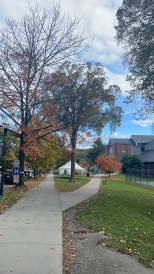 Service at Dartmouth!
Between classes, extracurriculars, and social activities, life at Dartmouth can become busy really quickly. However, it's still important to give back to the community when we can, which is why Dartmouth offers a lot of service opportunities. What's special about the service opportunities at Dartmouth is that they can be fun, supportive and a great place to meet new friends or hang out with current ones! Therefore, I thought I'd share a few that I've seen (or participated) in so far.
First, service can be as accessible as joining a club. At Dartmouth, there are service-oriented clubs such as Social Impact Non-Profit Consulting, which works with non-profit organizations and social enterprises. Furthermore, even seemingly non-service related clubs can offer opportunities to help impact the community. Last year, the Dartmouth Asian Organization held a fundraiser for a few Asian charities by selling food from local Asian restaurants! 
Of course, doing service can extend far beyond the clubs on campus. Opportunities open to all students range from supporting The Fifty, a Dartmouth tradition where students hike for 54 miles over the course of around 30 hours, to donating blood for the Red Cross. Service can also be a great social activity, as my fraternity offers a service event almost every week in cooperation with various groups on campus. Last week, we played charity volleyball games for local organizations while this week we'll be baking cookies for children with the DREAM organization. These activities are not only a great way to catch up with brothers, but we usually get other student group organizations involved as well, so it's a great chance to meet new people! 
When I first thought about service in college, I had the idea that it would either have to be a large commitment or nothing at all. However, I've been happily surprised to see how many students around campus get involved with service activities, regardless of what they want to pursue after Dartmouth. Although service can be as short as spending a Friday afternoon going on a National Eating Disorder Awareness Walk (which is coming up soon!), it's a great way to give back to the community and expand your perspectives. Like most things at Dartmouth, service, in general, is a super accessible space that's there as much as you want it, and it can be social, outdoorsy, active, or none of the above! Whatever the case, it feels great to give back to the community.