You are here
« All Posts by this Blogger
Revisiting Dimensions!
Hi 24's! I've had the pleasure to get to know some of you through virtual hosting, and I'm so excited to welcome you all to campus! Although there's so much to look forward too, I was sorry to hear that you guys won't have a Dimensions to be excited about. For those of you who don't know, Dimensions is Dartmouth's revisit day for accepted students, which unfortunately has been canceled this year. Therefore, to compensate, I thought I would revisit my Dimensions experience from last year! 
My Dimensions started with waking up early in the morning to catch a flight to Boston from Philadelphia. After arriving, I went to the bus stop where the Dartmouth Coach would be picking us up. There, I met some other kids who were also going to Dimensions, and we quickly struck up conversation. Immediately, I recognized that everyone was very open and warm, and it was on that three-hour bus ride that I made some of my first friends at Dartmouth!
After arriving at Dartmouth, we were introduced to our hosts. My host was a sophomore from Canada, who I still talk to today! The rest of the day was filled with introductory speeches, museum visits at the Hood, and performances by wonderful dance and acapella groups. Although all of these events were entertaining, what stood out to me was how passionate and friendly all my fellow '23s and other Dartmouth students were. In fact, one of my favorite memories from Dimensions was hanging out on the Green with another '23 I had just met, when some students asked us to play spikeball with them. It was such an unexpected kind gesture, and it ended up having a lasting impression, although we did lose the game.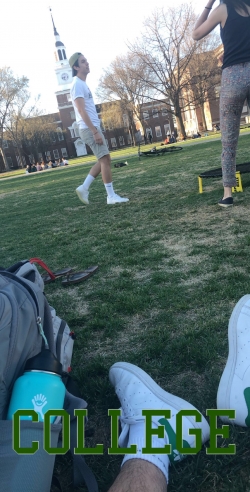 If you ask most students what their favorite aspect of Dartmouth is, they will say it's how kind, supportive and fun people here are. I was shown this throughout my Dimensions experience, which culminated in a show hosted by students. The show consisted of a lot of silly dancing and parodies of hit songs we all know, as they changed the lyrics to try to convince us all to come again next fall. As I laughed at the choreographed dances and wacky outfits, I couldn't help being blown away by the effort all the students had put in to memorize their lines and dances just to welcome us to Dartmouth. I left Dimensions excited for my four years of college, and so far, it's been a blast.
To all the '24s, I'm sorry you guys won't get a Dimensions experience like mine, but I can't wait to see you guys run around the bonfire, enjoy your first winter carnival, and experience all the great things that Dartmouth has to offer you. If you see me around in the fall, say hi! We can even play some spikeball.
Dartmouth is a very outdoorsy place. However, you don't need to be involved with any outdoor clubs to fully experience the outdoors Dartmouth and the surrounding area have to offer. Sometimes, you just need a free day and some friends!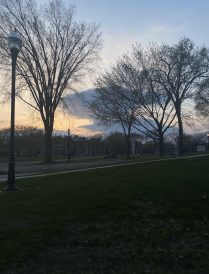 As I navigate a virtual senior spring term, I'm taking account of all of the fun ways to enjoy this term. Here's a list of three of my favorite spring activities!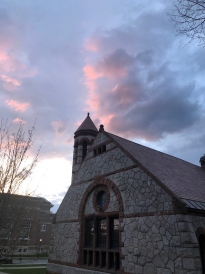 Considering that we're almost halfway through the term, I thought I'd do a little what I do in a day, especially since I wasn't on campus last term.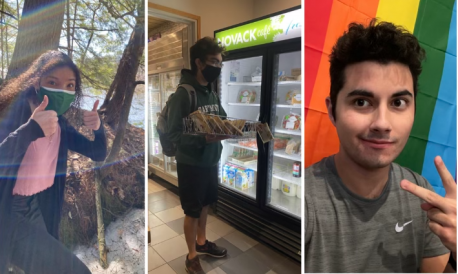 Today, I decided to walk around campus and asked my friends what their favorite aspect about Dartmouth is!

With decision day approaching, I decided to transport back to a year ago and share why I chose Dartmouth over other schools.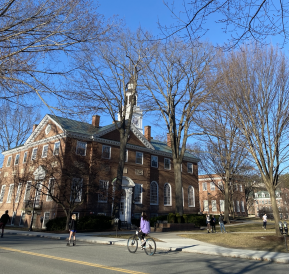 As you can see, what started as a simple blogging job has transformed into one of my biggest involvements on campus. What's great is that I love the work that I'm doing, and since it takes on so many forms, I never get bored!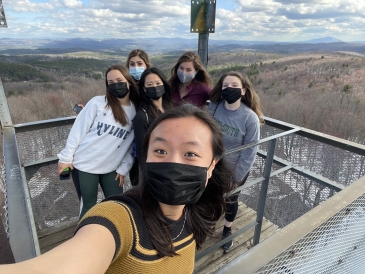 Dartmouth is home to a diverse range of students that will become your lifelong friends. For this blog post, I thought I'd interview a few of my fellow '24s to give you a glimpse into the crazy awesome people that make Dartmouth, Dartmouth!

In terms of fears about going off to college, I've noticed some recurring themes, both from my conversations with '25s and from my own experience. Read on to see my responses to some frequent questions and concerns!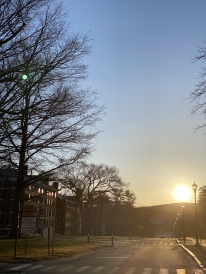 Welcome to my "Welcome to 21S" post! As I reflect on my sixth term at Dartmouth, what stands out to me is that it has been a full year since Covid-19 changed our world.