« All Posts by this Blogger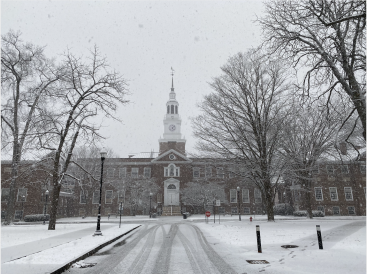 My favorite places on campus
Dartmouth might be a smaller school than other large universities, but I think any Dartmouth student will tell you that you can always learn something new about campus. My Freshman winter, I remember one of my friends asking if me if I wanted to come to the climbing gym. Although I had been at Dartmouth for over half a year at that point, I replied with confusion: "What climbing gym?" It's moment like these that stand out to me when I think about all the undiscovered places I haven't been to yet. Unfortunately, I haven't been able to explore campus recently, but I still think about some of my most visited spots at Dartmouth regularly. I think every student at Dartmouth has different spots they call their own, but I'm here to share some of my personal favorites with you!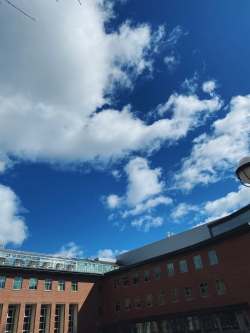 If you're a college student, you need a have a go-to study spot. Dartmouth offers a variety of options, whether that's first floor of Baker Library (FFB), the Jones Media Center, or the Baker-Berry Stacks. Although I've put in countless hours of work in all these places, my favorite spot to study is actually the Life Sciences Center (LSC), which is a ten-minute walk from the heart of campus. LSC is where a lot of the STEM courses take place, and I was actually introduced to the building by taking my CS1 class there. What I love about the LSC is that the building boasts these giant windows with views into beautiful gardens that bring a sense of calmness and tranquility. Since studying at Dartmouth can definitely become stressful, it's nice to be able to study at a place that gives you a sense of peacefulness. 
Another spot that I really miss at Dartmouth is Occom Pond, which is a pond about five minutes away from the Choates. Everyone talks about how great it is living in nature, and Occom Pond is a representation of that to me. During warmer seasons, I like to go by the pond to take a morning run, and I've also enjoyed hanging out by the pond with some friends at night. It's a really cool vibe at Occom Pond, as you get to feel slightly disconnected for a few second from all the craziness that is probably going on in your life. In the winter, you can ice skate on Occom Pond which is always a good time. If you organize some friends together, you can even put together a little outdoor hockey game! 
The Life Sciences Center and Occom Pond are just two places at Dartmouth that give me a lot of calmness and happiness. Although college life will always be chaotic, I loved counting on spots like these to give me some perspective and sense of peace. I think that given Dartmouth's setting in nature, there's a lot of spots that are similar to the ones I mentioned. If you ever come to Dartmouth, check out the LSC and Occom Pond! At the same time, try to find the spots that you might call your own!