« All Posts by this Blogger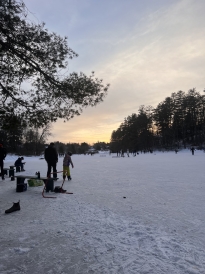 Skating at Occom: The Quintessential Dartmouth Activity
Despite the frigid weather, there are still so many ways to access the outdoors during winter at Dartmouth, whether sledding, cross-country skiing, or ice skating. Over the weekend, my friends and I decided to walk to Occom Pond for some ice skating. Approximately half a mile from campus, Occom Pond has always been one of my favorite spots in Hanover—with beautiful views regardless of season—so it was really exciting to be able to skate on it.
Once close to Occom, we stopped at the Cross-Country Ski Center to rent our free ice skates, then headed off onto the ice. While I'm definitely not the best at skating, I kind of figured it out with lots of help from my friends (and a little bit of Googling). As soon as I was stable, my friends headed off to grab hockey sticks and a puck to pass around for a little bit of competition.
Beyond the obvious, the idea of skating on top of a body of water has a lot of novelty for me as a Floridian. Since ponds never freeze in Florida, being able to skate on fresh water was really new and exciting—I felt like I was seeing a whole new side of Occom and also having a very New England-y experience.
While Occom was super busy, it was nice to see so many happy people—whether Dartmouth students or members of the greater Hanover community. As students, we're prone to getting stuck between schoolwork and classes, especially during winter, so it was really refreshing to see so much of the local community at Occom!