« All Posts by this Blogger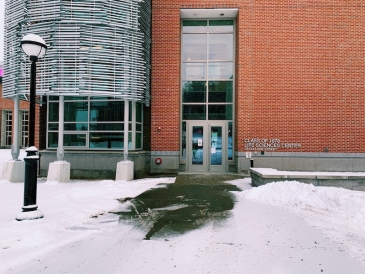 My Fav Club: DUJS
While school is obviously busy, college life grants lots of free time, which students often fill with extracurriculars, sports, or some time for relaxation. One of my absolute favorite extracurriculars at Dartmouth is DUJS: the Dartmouth Undergraduate Journal of Science. DUJS is a great opportunity for students across campus to get together and discuss scientific thought and innovation, whether from psychology, astrophysics, or more social justice-oriented medical research.
One of my favorite parts about DUJS is how flexible it is; there are so many ways to get involved, all of which allow you to learn so much about science journalism. At the beginning of the term, members get to choose their assignments between a bunch of choices: a joint print article (a long literature review written by a group of students), a solo print article (a shorter literature review written by yourself), and online articles (around 300-500 words about recent discoveries). This term, I wrote a solo print article about plant intelligence and last term I was involved in a joint print article about cancer and potential treatments; the options are truly limitless!
Beyond just scientific reporting, DUJS has so many opportunities for new members to develop friendships with students with similar interests. While we have meetings every Thursdays, the editorial board decided this term that every other meeting should be geared towards new members and freshmen in order to foster our friendships. The club also offers a variety of ways to connect with other members, whether on- or off-campus.
Also, within DUJS, there are a variety of sub-clubs that allow students to gain practical skills related to research. Through DUJS, I'm currently involved in the R Club as well as a journal club that teaches members how to interpret scientific papers from a variety of disciplines from life sciences to physics to computer science.
While all of this sounds great, my absolute favorite part of being involved with DUJS is hearing about how passionate students are about their primary interests. There are so many students in DUJS who are insanely smart and accomplished, yet they're still so excited to share their intellectual curiosity with others and are completely open to interdisciplinary conversation. As a student interested in STEM, I really loved being exposed to DUJS, particularly because it showed me a really cool part of campus culture. Prior to Dartmouth, I never thought I'd be able to have these amazing cross-disciplinary conversations with students whose interests fall all over the place.