« All Posts by this Blogger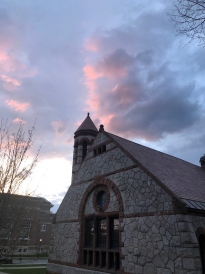 A Day in My Life: Spring Term!
It's the end of week 4 and midterm season really seems to be rolling around, with packed libraries and heavily caffeinated students all around. While we're really in the midst of grind season, the weather keeps getting nicer and students can be seen studying on the green, going on hikes, and hanging around on the porch at Collis Center. Considering that we're almost halfway through the term, I thought I'd do a little what I do in a day, especially since I wasn't on campus last term. 
10 AM to 11 AM
On Thursdays, I don't have class until 12:30 so I always have time to sleep in for a little, usually until around 10 or 10:30. After waking up, I head to the Class of 53 Commons dining hall (aka Foco) to grab some food before preparing for my chemistry lecture; we're talking about quantum mechanics now and—though it's been interesting—it has been challenging.
11 to 12:30 PM
After breakfast, I went to the library (my current favorite study location is the East Reading Room in Baker Library) and wrote a couple paragraphs for my philosophy paper. The class focuses on the intersections between evolution, religion, and cosmology and I really love it! The professor is so accessible and he's so excited to hear our opinions and talk about the philosophy of science.
12:30 PM to 2:50 PM
Leaving the library and moving into the far more social space of Novack Café, I went to my chemistry lecture, ate lunch, and then met up with my friend Maggie to collaborate on the finishing touches of an earth science assignment, which made us analyze the discharge from the White River located in the Upper Valley. In our Big Data Science in Hydrology class, we have coding assignments due after every class, usually using local data to learn about hydrological concepts.
2:50 to 10 PM
After finishing my Earth Science assignment, the other students in my class and I head over to Steele Hall for our in-person class. Right after class, I went back to Novack to finish some work and do some chemistry reading. From there, I was off to Foco for dinner with my friend Meggie (yes, there's a Meggie & a Maggie) and then back to room to get ready for a meeting for the Undergraduate Journal of Science. Once I finished that, I changed into pajamas, totally excited for an evening of Netflix and hanging out with my roommate. All in all, it was a pretty good day!